So I'm at the gym yesterday and the guy lifting next to me must have been a beginner because he asked me what type of look I was going for.  Without thinking twice, I told him that I was aiming for the "King Leonidas" image and have been training accordingly.  Though he probably thought that I was just messing with him because he was a  newbie, he seemed intrigued and wanted to hear about my regimen.  Good sport that I am, I shared the details of the "300 Workout" routine with the fitness freshman and felt so good about it that I would like to spread the wealth around to my fellow Socialites.
When released in 2006, 300 caught on with moviegoers faster than Kirstie Alley at an all you can eat buffet.  Regardless of if you were a fan of history or war films, 300 had something for everyone and mesmerized viewers with eye-popping visuals and graphic violence that film fans live for.  Men were drawn to the bloody fight scenes where Persians ate more knuckle sandwiches than Ricky Hatton from Manny Pacquiao while women couldn't look away from all those ripped Spartan soliders.  The key to the Spartan physique lies in the following 300-repetition workout:
a) Pullups – 25 reps
b) Deadlifts with 135lbs – 50 reps
c) Pushups – 50 reps
d) 24-inch Box jumps – 50 reps
e) Floor wipers – 50 reps
f) Single-arm Clean-and-Press with 36lbs Kettlebell – 50 reps
g) Pullups – 25 reps
* – All exercises are done without scheduled rest between moves.
Got all that?  Ok, obviously very few of you are capable of completing or even trying the above workout, after all it is meant only for those looking to take out Xerxes legions of Immortals and freaky ass angry elephants, not your casual summer beach bums.  Unless you are a legit bodybuilder, then don't even try the extreme plan that I just laid out or you may end up injuring yourself and looking like this guy: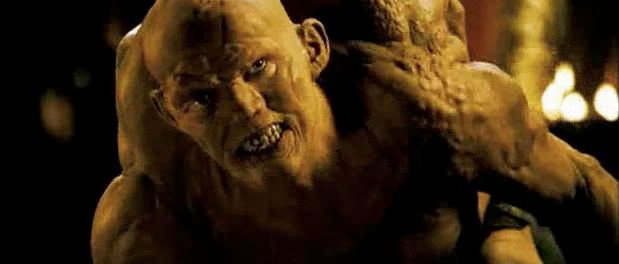 Fortunately, there is a modified version that yields great results and will tone your body within weeks.  Below is the suggested weightless, 150-rep model of the 300 workout:
a) 15 bodyweight rows (inverted pushups)
b) 25 bodyweight squats
c) 15 pushups
d) 50 jumping jacks
e) 20 mountain climbers (running in place from a crouched position)
f)  10 close grip pushups
g) 15 bodyweight rows (inverted pushups)
Give the 300 workout a shot and get into shape for the remainder of the summer and ready to turn heads when you return to school in the fall.  You'll be kicking Persian messengers down wells and making God-kings bleed in no time.