For some Campus Socialites, pledging a fraternity is as much of a part of college as midterms and shower shoes. Sure fraternities are not for everyone, but for the Greeks involved there truly is nothing better. The brotherhood, the parties, the girls, the protein shakes and living in a house that would make any mother cry all make up the exclusive fraternity lifestyle. However, to be the king of the mountain you have to start climbing from the ground up. As any fraternity member will tell you pledging is the best thing they will never do again, and for good reason. At points pledging makes you contemplate jumping in front of that campus shuttle in hopes that you might be able to miss that night's lineup, but the pledge class you're in can basically decide what type of experience your going to have as a pledge. Every pledge class has its token personalities that make them great, but what if you were to create the ultimate pledge class? In a Campus Socialite exclusive, we have rushed the new guys and our pledges are anxious to get this program underway. If you think you have good pledges or was a good pledge yourself, you got nothing on our guys, TCS 4 Life! Check out the first four bids of twelve we handed out:
"The Eater"- Joey Chestnut
Pledge Name- Weiner
Nasty concoctions? Spoiled dairy products? Couch pizza? No worries. Every pledge class needs that guy who will eat anything. Joey Chestnut is that guy. He has set records for eating 68 hotdogs in 12 minutes, 182 chicken wings in 30 minutes, and he even was a halftime show downing 10 1/2 pounds of mac and cheese in 7 minutes. Bring the pain brothers, this guy has an iron stomach and seems to swallow food whole. With the Fourth of July here, we are reminded why the world of competitive eating has recently felt the wrath of Chestnut, not to mention he's an electrician during the day so he could wire the frat house with surround sound.
"The Crazy Guy"- Steve-O
Pledge Name- Das
Yeah we know Steve-O has recently cleaned up his act but this is a different scenario. He now has to be there for his pledge brothers and with his past reputation he has once again decided to go balls to the wall. We have seen him light fireworks out of his ass, swallow goldfish, pole vault into a river of shit and snort wasabi. There is nothing you can throw at this guy that he hasn't seen before or isn't willing to try. We actually contemplated not giving him a bid because he might enjoy pledging a little too much. Steve-O has best pledge written all over him and we cant wait to see what this guy is capable of… seriously when he got his bid he tattooed "best pledge" on his forehead.
"The No Hygiene Pledge"- Oscar the Grouch
Pledge Name – Muppet
We realize good old Oscar might be a little old for pledging but come on he was one of our childhood friends, how could we not give him a bid?  Every pledge class has that one smelly dude who, due to pledging, now has an excuse to stop showering, shaving and brushing his teeth. Even with minimal amounts of sleep and personal time there's always time for personal grooming, but for that one pledge it is mission impossible. Oscar would have no problem spending the night in the frat house basement, he lives in a fucking trash can… he's the poorest motherfucker on Sesame Street!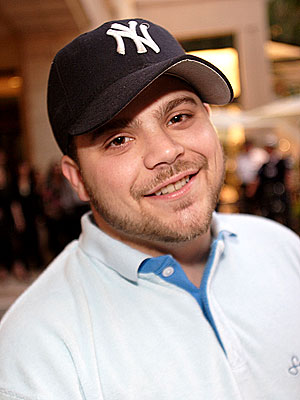 "The Fat Kid Everyone Loves"- Jerry "Turtle" Ferrara
Pledge Name – Sigler
Every pledge class has them and none would be complete with out the fat guy that everyone loves. He brings humor to the group as well as always being a good pledge brother, Turtle is that guy to a tee. Whether it be driving Vince around, trying to find new gigs with Drama, throwing blowout parties or keeping his pimp hand strong by macking that chick from the Sopranos, this guy is true fraternity material. When it comes to the calisthenics he might slack but Turtle is a pledge we just couldn't pass on, plus he said Vince would let us have a mixer at the new crib.
Stay tuned for the other 8 pledges…..