By: Molly Cody (Penn State University)
During the summer, the clothes are lighter, the drinks are poured heavier, and relationships heat up and fizzle out faster. Summer is the time of flings, casual hook-ups, and Mr. Right Now instead of Mr. Right.
So when you can start to feel the crunch of leaves under your feet, the temperature drops, and the holiday season is in sight, it's relationship season! That's right, the best time to have a boyfriend or girlfriend is during the fall and winter when things calm down and become routine. When it's 12 degrees outside and you don't feel like going out but don't want to be alone, staying in watching a movie and fooling around is a great option.
But when you and your boyfriend/girlfriend want to go out and do something, the activities available to you in October are some of the most fun. There's something about the changing of the seasons and chilly air that make girls want to snuggle up to a guy, drink some spiked apple cider, and have a good time.
And with Halloween coming up, it gives the men out there two opportunities they don't normally have, 1) seeing a girl in lingerie before you even have sex because of her skimpy Halloween costume, and 2) getting a girl to warm up to you and get a little closer because she's scared.
So here are a few of the best date ideas for October:
1. Hayrides
Hayrides when you're younger consist of picking your favorite pumpkin and getting your face painted, but in college, hayrides mean kegs, bonfires, and Captain Morgan. Many student clubs (at least at Penn State) organize hayrides for their members and it gives everyone a night of good, casual fun. And a nice excuse for the ladies to leave their heels at home, and break out their Uggs. An XL wagon full of hay that takes you to a spot in the woods with friends, booze, and food…it's a great way to spend a night.
2. Haunted Houses
Going to a haunted house is a great date because it's an activity that you don't normally do. Switching up your routine do will help keep the spice alive and both of you happy. While blood, demons, and murderers aren't usually what you think when you hear the word romantic, it will make you guys get (physically) closer. Plus women like a man that will protect them, and even though we know it's all pretend, it's still nice to be taken care of.
3. Sporting Events
Sporting events are the perfect thing for couples to do. Ladies, even if you don't like sports, your guy will be so happy to be watching the game live, it'll be worth it. Plus at sporting events it's acceptable to drink beers and eat french fries until your stomach hurts. The hockey season has just begun, football season is in full swing, and the MLB playoffs just began, so there's plenty of games to catch. If you can't afford major league tickets, check out a local college or high school game, but you'll have to swap beer for hot chocolate.
4. Tailgates
If you can't get tickets to a game, don't worry, there's still a tailgate for the game that you don't need a ticket to! Flip cup, beer pong, and corn hole are fun team games where you can get competitive with each other, but not to the point where it gets nasty. When else can you wake up at 9 am, chug a beer, and dance around in a public parking lot for a few hours while doing team chants?
5. Scary Movies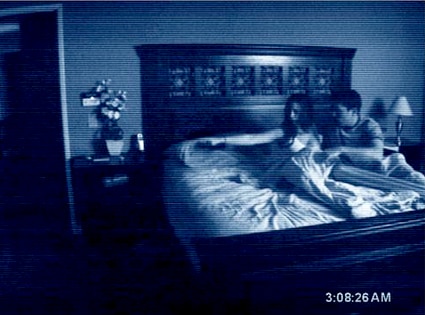 If you're low on cash, but still want to have a fun October date with your lady or man, invite them over for a scary movie. As a female, I don't normally watch scary movies during any other time of the year except Halloween, so if you're into horror films now is your time. So pop in Paranormal Activity or Saw, and grab a blanket and your date.