As a die hard Yankee fan this weekends series has been a dream come true. Tonight's game is the first time the Yanks swept the Sox in years as well as potentially putting a nail in the coffin for the Sox's playoff hopes. If your a Boston fan I actually feel bad for you, but one thing that we all can agree on is that this past series has been one for the ages. With so much history on both sides, championships and Hall of Famers its hard not to fall in love with this rivalry. But what if the biggest rivalry in any sport somehow joined together and created an All Time Yankee/Red Sox team. Think of the talent this squad would bring day in and day out. Some of the best Yankee/Sox players of all time wouldn't even make the cut for this team.  Check out the all time Yankee/Sox team:
Catcher- Yogi Berra
Yogi is one of the all time classic yankees. He was a three time AL MVP, appeared in fourteen world series and won ten. And if you ever hear the guy speak your bound to hear a classic yogiism.
First Base- Lou Gehrig
The Iron Horse dominated professional baseball in the 20's and 30's. 2 time AL MVP, triple crown winner in 1934, lifetime batting average of .340 as well as holding the all time career grand slams, 23, which has yet to be threatened. Over the fifteen year career Gehrig played 2,130 consecutive games before falling fatally ill to Lou Gehrig's disease.
Second Base- Bobby Doerr
A lifetime Red Sock, Doerr is one of the greatest second baseman to play the game. He set the record for career double plays at second base with 1,507. Doerr hit 223 homers and 1,247 RBI's during an era when middler infielders were not known to be sluggers. His great career was topped off with a Hall of Fame induction in 1986.
Short-stop- Derek Jeter
Our generations Mantle, Jeter is worshipped by Yankee fans worldwide. Former AL Rookie of the Year, three time Silver Slugger and Gold Glove Winner, ten time All-Star, and four time World Series champ gives Jeter a pretty nice resume not to mention his all-time hits (currently 2671).  The captain is Mr. New York and a living legend.
Third Base- Alex Rodriguez
A-Rod is hands down one of the best third baseman to ever play the game. On pace to be the all-time home run leader, A-Rod has already broken the record for youngest player to get to 500 home runs. 12 time All-Star selection , 10 time Silver Slugger, 2 time Gold Glove winner and 3 time AL MVP shows why A-Rod gives pitchers around the league nightmares.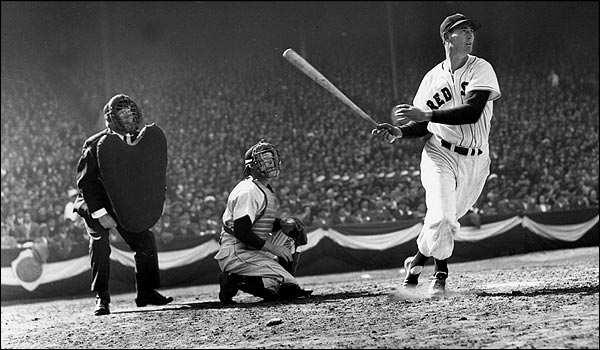 Left Field- Ted Williams
Over a 21 year career Williams represented the glory of Major League Baseball. Besides leading the league in batting six times, two time Triple Crown winner, 2 time AL MVP, 17 All-Star selections, a .344 career batting average, 521 homers and 1839 RBI's, Williams served as a military pilot during two seasons with the Sox.
Center Field- Joe Dimaggio
This one was a toss up between Dimaggio and Mantle but we had to give the edge to Joe. He had a 56 game hitting streak for crying out loud. If players now get to 30 games with a hit it is a huge accomplishment. Dimaggio also dated a pretty famous broad by the name of Marilyn Monroe…points for Joe D. 9 time World Series champion and 3 time AL MVP made Dimaagio one of the all time best players to play the game.
Right Field- Babe Ruth
Do I really need to make a case for this one. The Great Bambino put the sport on the map… he's Babe fucking Ruth.
Designated Hitter- David Ortiz
Big Papi was a crucial part of the Sox's World Series runs. A feared presence every at bat; Ortiz lead the AL in homers and RBI's in 2006 and is a 4 time Silver Slugger. When the Sox's acquired Oritz in 2003 they pulled off one of the greatest moves in recent times with a pure slugger.
Pitcher- Roger Clemens
With stops in both Boston and New York, Clemens was a clear favorite for the starting pitcher. 6 time Cy Young Winner, 2 time World Series Champ, 1986 AL MVP, and an unforgettable bat throwing during the World Series shows the competitiveness of The Rocket. His Hall of Fame status is in question, but there is no doubt about it, Clemens is one of the all-time greatest pitchers.
Closer- Mariano Rivera
If the game is on the line there is no other player in history that you would want to close other than Mo. You know you are a force to be reckoned with when every hitter knows the pitch you are about to throw, and yet still ends up striking out. With over 500 saves, 10 time all-star, and 4 time World Series champion, Rivera will go down as the best closer of all time.
Positions courtesy of Buster Olney