As it gets closer to the beginning of fall semester, many girls head into school with one specific goal in mind: trying to avoid the dreaded freshman 15 (or sophomore, junior, and senior, for that matter). Sometimes all you need is a little motivation to kick-start new, healthy habits – and if I could personally recommend one tool to help you along the way, it would be the book "Naturally Thin: Unleash Your SkinnyGirl and Free Yourself from a Lifetime of Dieting." Written by celebrity natural food chef Bethenny Frankel, the book speaks to it's readers in a very real way about being able to eat whatever you want while still maintaining a healthy lifestyle and a fit bod.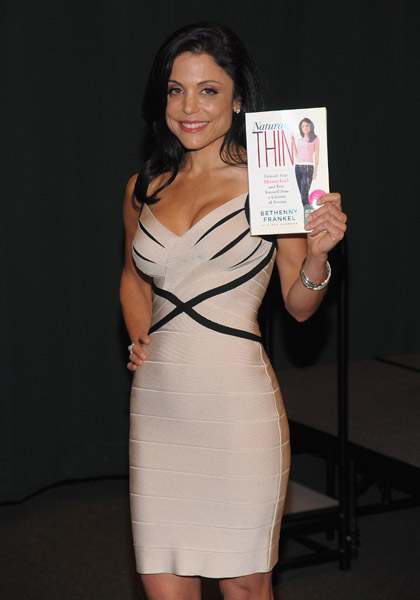 "Naturally Thin" is broken down into two sections: the first describes 10 rules to live by in order to become "naturally thin." She repeats certain mantras that encourage a healthy attitude such as: "you are what you eat" (which talks about choosing local, unprocessed foods) and "cancel your membership to the clean plate club" (which basically tells you to stop being a fat-ass and consuming every single thing on your plate). As is true to her personality, Frankel tells it like it is – and insists that readers let go of all of the diet bullshit they've ever been told in the past.
The second section takes you through a sample week of eating in a "naturally thin" way. Frankel provides personal anecdotes about food choices she makes during a typical week in her own life, and also includes great recipes that are easy to make and incredibly tasty (I can vouch for it!). She address issues like smart choices to make when drinking alcohol and going out to dinner, and even ways to combat diving into unhealthy foods when you're hungover. While reading the book, you'll feel like she's actually one of your friends coaching you to make healthy decisions every day (I know that sounds TOTALLY lame, but it is the honest-to-God truth).
Bethenny's career launched when she was the first runner up on Martha Stewart's Apprentice, and within the past few years fans have become enamored with her snarky sense of humor and legendary one-liners on The Real Housewives of New York. Whether or not you've been a Frankel fan since the get-go, I promise you…her book delivers, and will forever change the way you think about food and eating. Just take one look at her rockin' bod for proof.
Check out Bethenny's website for more info and to buy her book: http://www.bethenny.com/index.html
–Lindsay Silberman