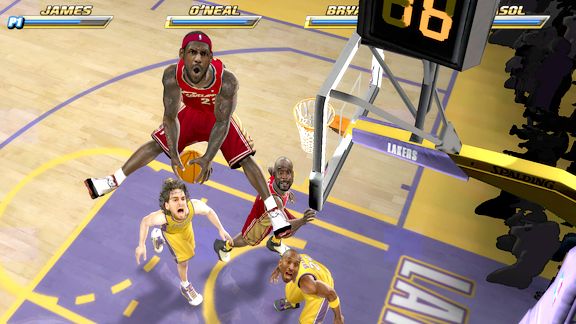 Article by Marc Stein of ESPN.com
One word is synonymous with the most addictive two-on-two basketball in the history of the sport.
Boomshakalaka.
It's a word that instantly transports you back to 1993, when NBA Jam was introduced as the first arcade game officially licensed by the league and soon became the most lucrative coin-operated machine ever seen. It's a game so revered for its exaggerated dunks, long-distance swishes and unforgettable catchphrases ("He's on fire!") that literally dozens of current NBA players can't wait for December, when EA Sports unveils its updated version of NBA Jam for the Nintendo Wii.
I've always been a serious sort — even as a little kid who traded in toys for Strat-O-Matic board games at a frighteningly early age — but NBA Jam turned me into an irresponsible teen when it arrived. A 24-year-old with a full-time job shouldn't have been spending as many hours and quarters as I poured into my favorite machine at a 7-Eleven in West Los Angeles.
I just couldn't stop. Not then and not now. When I heard EA was not only resurrecting the greatest video game of all time but inviting NBA fans and gamers to vote for the players they want to see in the new NBA Jam, I knew I wouldn't be able to resist writing about it.
Voting on three teams per week began in mid-January and ends Monday, with EA listing six players for each team and allowing respondents to pick only three. The following breakdown lists the original two-man pairings in the arcade version, EA's six nominees for all 30 teams and the three-man rosters I want to see.

ATLANTA HAWKS
Original 1993 NBA Jam Twosome: Dominique Wilkins and Stacey Augmon
2010 EA Sports Ballot: Joe Johnson, Josh Smith, Mike Bibby, Marvin Williams, Al Horford and Jamal Crawford
Stein's Picks: Johnson, Smith and Crawford
Anyone who's ever loved this game naturally wants to see how much ridiculous air Smith gets on his dunks and swats. Johnson is an automatic, too, so the choice for the last spot comes down to Horford and Crawford. Since Al got the All-Star nod from East coaches — and since Atlanta's sixth man is far more flammable — it's Crawford's turn. (How flammable? Don't forget that Crawford is one of just four players ever, along with Wilt Chamberlain, Bernard King and Moses Malone, to drop a 50-point game for three different teams.)
---

BOSTON CELTICS
Original 1993 NBA Jam Twosome: Reggie Lewis and Kevin McHale
2010 EA Sports Ballot: Kevin Garnett, Paul Pierce, Ray Allen, Rajon Rondo, Rasheed Wallace and Kendrick Perkins
Stein's Picks: Garnett, Pierce and Rondo
Tempting as it is to go the respect route with KG, Pierce and Allen — since this is a game that can make them all look young and spry again with all the super-hero athleticism — how could you possibly exclude Rondo? Especially in a game with no free throw shooting required? (I do suspect some gamers will rue the fact that Nate Robinson, by virtue of the fact that he's only been a Celtic for a month, wasn't on the ballot.
---

CHARLOTTE BOBCATS
Original 1993 NBA Jam Twosome: N/A
2010 EA Sports Ballot: Gerald Wallace, Stephen Jackson, Tyson Chandler, Boris Diaw, D.J. Augustin and Raymond Felton
Stein's Picks: Wallace, Jackson and Diaw
The Bobcats' signature duo of Wallace and Jackson picks itself. And I've always been drawn to Diaw's passing eye, in spite of his famed spells of underachievement, so the Frenchman edges out Chandler … although we're naturally banking on some sort of cheat code you can win/find on an online cheat site to unlock new owner Michael Jordan as a Charlotte player.
---

CHICAGO BULLS
Original 1993 NBA Jam Twosome: Scottie Pippen and Horace Grant
2010 EA Sports Ballot: Derrick Rose, Luol Deng, Joakim Noah, Kirk Hinrich, Taj Gibson and John Salmons
Stein's Picks: Rose, Deng and Noah
Quite a slight to Brad Miller that he didn't snag the last spot on the Bulls' ballot, which would have been our reaction even if the Bulls hadn't traded Salmons to Milwaukee. With or without Miller, though, you start with Rose and Noah and are inevitably drawn to Deng over Hinrich. This, after all, is an injury-free virtual world.
---

CLEVELAND CAVALIERS
Original 1993 NBA Jam Twosome: Mark Price and Brad Daugherty
2010 EA Sports Ballot: LeBron James, Shaquille O'Neal, Antawn Jamison, Anderson Varejao, Anthony Parker and Mo Williams
Stein's Picks: James, O'Neal and Varejao
LeBron? No explanation necessary. Shaq? Too legendary to even think about snubbing, especially after he famously made Orlando cart around the original arcade version on road trips so he could get his NBA Jam fix. The final vacancy? Williams and Jamison obviously have to be considered strongly, but who doesn't think about Varejao when they think about the Cavs? Varejao might be Cleveland's second most influential player, has great chemistry with LeBron and has scrapped his way straight into the Sixth Man Award race with Atlanta's Crawford.
---

DALLAS MAVERICKS
Original 1993 NBA Jam Twosome: Derek Harper and Mike Iuzzolino
2010 EA Sports Ballot: Dirk Nowitzki, Jason Kidd, Caron Butler, Shawn Marion, Jason Terry and Brendan Haywood
Stein's Picks: Nowitzki, Kidd and Marion
Reassuring as it to know that my beloved Nowitzki will finally be getting some hops, this has to be one of the toughest groups to slice to three. You can start with future Hall of Famers Dirk and Kidd, try to exclude Butler and Haywood on the grounds that they don't have enough Dallas seniority and you still end up having to choose between Marion and Terry. The Matrix is fortunate he has the versatility (and the nickname) to break the deadlock.
---

DENVER NUGGETS
Original 1993 NBA Jam Twosome: LaPhonso Ellis and Dikembe Mutombo
2010 EA Sports Ballot: Carmelo Anthony, Chauncey Billups, Kenyon Martin, J.R. Smith, Nene and Chris Andersen
Stein's Picks: Anthony, Billups and Martin
Once you get past the reflex selections of Melo and Chauncey, both Smith and Andersen have undeniable appeal because (A) they're the two most combustible Nuggets, and (B) combustion usually rules in the NBA Jam universe. But I must be getting sentimental in my old age, because I'm going for K-Mart. The NBA's first and only comeback from microfracture surgery on both knees always gets me.
---

DETROIT PISTONS
Original 1993 NBA Jam Twosome: Isiah Thomas and Bill Laimbeer
2010 EA Sports Ballot: Rip Hamilton, Ben Gordon, Tayshaun Prince, Charlie Villanueva, Rodney Stuckey and Ben Wallace
Stein's Picks: Hamilton, Prince and Wallace
Gordon, Villanueva and Stuckey can all make a stronger case than Prince these days, but don't you prefer to remember the Pistons as they were for most of the past decade? Us, too.
---

GOLDEN STATE WARRIORS
Original 1993 NBA Jam Twosome: Tim Hardaway and Chris Mullin
2010 EA Sports Ballot: Monta Ellis, Corey Maggette, Stephen Curry, Andris Biedrins, Anthony Randolph and Anthony Morrow
Stein's Picks: Ellis, Curry and Morrow
Size and strength were required commodities for success in the original NBA Jam because of all the dunks, blocks and heavy contact, but the Warriors have precious little of those commodities in real life. So I've defaulted to the three most entertaining Warriors, capped by my favorite: Morrow. Monta and Curry are the bigger names, obviously, but I could watch Morrow shoot all day.
---

HOUSTON ROCKETS
Original 1993 NBA Jam Twosome: Hakeem Olajuwon and Kenny Smith
2010 EA Sports Ballot: Kevin Martin, Yao Ming, Shane Battier, Aaron Brooks, Luis Scola and Trevor Ariza
Stein's Picks: Martin, Yao and Brooks
Battier is Mr. Rocket, but I think even he'd concede that "NBA Jam" isn't really his scene. You could obviously say the same about 7-foot-6 man in the middle, but seeing what a supersized Yao looks and plays like flanked by Brooks and Martin (or Ariza) is an opportunity that can't be squandered.
---

INDIANA PACERS
Original 1993 NBA Jam Twosome: Reggie Miller and Detlef Schrempf
2010 EA Sports Ballot: Danny Granger, Mike Dunleavy, T.J. Ford, Dahntay Jones, Roy Hibbert and Brandon Rush
Stein's Picks: Granger, Jones and Hibbert
Question that has to be asked: How could Troy Murphy and especially Pacers lifer Jeff Foster not be made available to the voting public? Murphy surely would have been my pick alongside Granger and Hibbert, but instead it comes down to an unenviable choice between Jones' defense and toughness and Ford's speed.
---

LOS ANGELES CLIPPERS
Original 1993 NBA Jam Twosome: Ron Harper and Danny Manning
2010 EA Sports Ballot: Baron Davis, Blake Griffin, Chris Kaman, Eric Gordon, Steve Blake and Marcus Camby
Stein's Picks: Davis, Griffin and Kaman
Another very curious ballot, because Camby went to Portland in the trade that brought Blake to the Clippers but somehow remained on L.A.'s list. The important thing, though, is that Griffin's Jam incarnation will be 100 percent injury-proof. My other votes go to Kaman and Davis as Griffin's sidekicks, although I'm sure there's a segment of the Clipperland population that would choose Gordon over Baron and his beard.
---

LOS ANGELES LAKERS
Original 1993 NBA Jam Twosome: Vlade Divac and James Worthy
2010 EA Sports Ballot: Kobe Bryant, Pau Gasol, Lamar Odom, Ron Artest, Andrew Bynum and Derek Fisher
Stein's Picks: Bryant, Gasol and Odom
Artest has been a (mostly) quiet and successful fit for the Lakers so far, but there just isn't room for him on L.A.'s three-man Jam squad. I'm fairly sure all of us would start with Kobe and most of us would choose Pau over Bynum. And I personally could never snub a lefty I like as much as Odom, no matter how handy Artest's rugged presence would be with the way bodies fly around in this game.
---

MEMPHIS GRIZZLIES
Original 1993 NBA Jam Twosome: N/A
2010 EA Sports Ballot: O.J. Mayo, Zach Randolph, Rudy Gay, Marc Gasol, Mike Conley and Ronnie Brewer
Stein's Picks: Mayo, Randolph and Gay
If you've enjoyed watching the Grizz maintain a season-long challenge to Oklahoma City (and now Milwaukee) for Biggest Surprise Team status, wait until you'll see the damage these three do in the virtual arena.
---

MIAMI HEAT
Original 1993 NBA Jam Twosome: Glen Rice and Rony Seikaly
2010 EA Sports Ballot: Dwyane Wade, Michael Beasley, Jermaine O'Neal, Udonis Haslem, Mario Chalmers and Quentin Richardson
Stein's Picks: Wade, O'Neal and Haslem
I know the jokes are coming about D-Wade having to do all the work even in a video game. I also know that I should probably be finding a spot for Beasley in my Heat top three, but I can't. Not even the lefty factor can slide Beasley in ahead of O'Neal (still a defensive disruptor) or Haslem (whose effectiveness in the 2006 NBA Finals is etched in the memory) on this scorecard.
---

MILWAUKEE BUCKS
Original 1993 NBA Jam Twosome: Blue Edwards and Brad Lohaus
2010 EA Sports Ballot: Michael Redd, Andrew Bogut, Brandon Jennings, Luke Ridnour, Hakim Warrick and Ersan Ilyasova
Stein's Picks: Redd, Bogut and Jennings
Two lefties with irresistibly quick releases flanking our soccer-loving pal Bogut? This would be one of my go-to teams for sure.
---

MINNESOTA TIMBERWOLVES
Original 1993 NBA Jam Twosome: Christian Laettner and Chuck Person
2010 EA Sports Ballot: Al Jefferson, Kevin Love, Jonny Flynn, Corey Brewer, Ryan Gomes, Ramon Sessions
Stein's Picks: Jefferson, Love and Flynn
Shouldn't have had this much trouble narrowing down to a final three. Not from a 14-win team. But Brewer has made sufficient progress this season to push for Flynn's spot … and our pining for Ricky Rubio only gets louder when we imagine his turbocharged Jam likeness.
---

NEW JERSEY NETS
Original 1993 NBA Jam Twosome: Derrick Coleman and Drazen Petrovic
2010 EA Sports Ballot: Devin Harris, Brook Lopez, Yi Jianlian, Chris Douglas-Roberts, Rafer Alston and Courtney Lee
Stein's Picks: Harris, Lopez and Lee
The duo of Coleman and Drazen was one of my three faves when I got hopelessly hooked on the arcade version at that 7-Eleven, right up there with Golden State's Hardaway and Mullin and Phoenix's Charles Barkley and Dan Majerle. Have to confess that I didn't get the same charge combing through my options with the 7-61 Nets.
---

NEW ORLEANS HORNETS
Original 1993 NBA Jam Twosome: Larry Johnson and Kendall Gill
2010 EA Sports Ballot: Chris Paul, David West, Peja Stojakovic, Emeka Okafor, Devin Brown and Marcus Thornton
Stein's Picks: Paul, West and Stojakovic
The Hornets traded Brown to Chicago on Jan. 25. Why Brown and Marcus Thornton appear as Hornets options — but Darren Collison and Emeka Okafor don't — is probably the biggest mystery in EA's interactive balloting. But this much is clear: Collison's omission makes it slightly easier to settle on a trio here. Paul and West are slam dunks, with our pal Peja and his 3-point rainbows that were made for this game holding off the fast-emerging Thornton.
---

NEW YORK KNICKS
Original 1993 NBA Jam Twosome: Patrick Ewing and Charles Oakley
2010 EA Sports Ballot: Al Harrington, Danilo Gallinari, David Lee, Wilson Chandler, Tracy McGrady and Chris Duhon
Stein's Picks: Gallinari, Lee and McGrady
The results of fan voting are scheduled to be revealed online between mid-April and June, but one source with knowledge of EA's thinking said this week that the game's design team reserves the right to make roster alterations based on "significant team additions or changes" in free agency this summer. Knicks fans will obviously be hoping this disclaimer applies to their team more than any other, but for now sentiment has kicked in again and swayed me to wedge McGrady in alongside Gallinari and Lee.
---

OKLAHOMA CITY THUNDER
Original 1993 NBA Jam Twosome: Shawn Kemp and Benoit Benjamin (Seattle)
2010 EA Sports Ballot: Kevin Durant, Jeff Green, Russell Westbrook, Thabo Sefolosha, Nenad Krstic and James Harden
Stein's Picks: Durant, Green and Westbrook
I'm already bracing for the e-mails of protest for linking the Sonics with the Thunder, but hopefully this link to an old NBA Jam story on ESPN.com — complete with tales of Gary Payton's dismay because he somehow lost out to Benjamin when the original Sonics tandem was chosen — will lighten the mood. Protests from Oklahoma City for omitting Harden are also expected, but I don't see how you give you him Green's slot.
---

ORLANDO MAGIC
Original 1993 NBA Jam Twosome: Shaquille O'Neal and Scott Skiles
2010 EA Sports Ballot: Dwight Howard, Vince Carter, Rashard Lewis, Jameer Nelson, Mickael Pietrus and J.J. Redick
Stein's Picks: Howard, Carter and Nelson
With the way Lewis has been slumping, by contrast, I don't foresee much resistance if any to our preference for Jameer over Rashard to complete Orlando's trio with Dwight and Vince. Agreed?
---

PHILADELPHIA 76ers
Original 1993 NBA Jam Twosome: Hersey Hawkins and Jeff Hornacek
2010 EA Sports Ballot: Andre Iguodala, Elton Brand, Allen Iverson, Lou Williams, Marreese Speights and Thaddeus Young
Stein's Picks: Iguodala, Brand and Iverson
Couldn't help it with the Knicks and I'm guilty again with the Sixers: I want to see vintage Iverson in this digital playground just like I want to see McGrady. Philly's kids will have to wait.
---

PHOENIX SUNS
Original 1993 NBA Jam Twosome: Charles Barkley and Dan Majerle
2010 EA Sports Ballot: Steve Nash, Amare Stoudemire, Jason Richardson, Grant Hill, Channing Frye and Leandro Barbosa
Stein's Picks: Nash, Stoudemire and Hill
It seems safe to suggest that the two-man game Nash and Amare have perfected over the past six seasons will be spectacular in the two-on-two world of Jam. J-Rich's decorated history as a dunker will undoubtedly snag him the third spot in fan voting, but my Hill history (covering him and talking soccer with him) wouldn't allow that.
---

PORTLAND TRAIL BLAZERS
Original 1993 NBA Jam Twosome: Clyde Drexler and Terry Porter
2010 EA Sports Ballot: Brandon Roy, LaMarcus Aldridge, Greg Oden, Andre Miller, Marcus Camby and Martell Webster
Stein's Picks: Roy, Aldridge and Oden
Nicolas Batum? Jerryd Bayless? Neither of them, sadly, was an option in fan voting. The good news? Nothing worse than getting dunked on or rejected at the rim can happen to the Jam version of Oden, so let's hope he does better than Gary Payton did in 1993 and makes the programmers' cut to represent the Pacific Northwest.
---

SACRAMENTO KINGS
Original 1993 NBA Jam Twosome: Wayman Tisdale and Spud Webb
2010 EA Sports Ballot: Carl Landry, Tyreke Evans, Jason Thompson, Spencer Hawes, Beno Udrih and Andres Nocioni
Stein's Picks: Landry, Evans and Thompson
I stand corrected. There is obviously no greater outrage in this whole process than someone forgetting to make sure Omri Casspi was one of the six possible Kings. Landry and Evans were easy selections, but I barely mustered the enthusiasm to settle on a third. Thompson's athleticism eventually won out … I guess.
---

SAN ANTONIO SPURS
Original 1993 NBA Jam Twosome: David Robinson and Sean Elliott
2010 EA Sports Ballot: Tim Duncan, Tony Parker, Manu Ginobili, Richard Jefferson, George Hill and Antonio McDyess
Stein's Picks: Duncan, Parker and Ginobili
Manu's forthcoming free agency might finally break up San Antonio's big three after eight seasons together. Until then, however, they are still inseparable to me … although temptation might have been greater had DeJuan Blair been an option.
---

TORONTO RAPTORS
Original 1993 NBA Jam Twosome: N/A
2010 EA Sports Ballot: Chris Bosh, Jose Calderon, Andrea Bargnani, Hedo Turkoglu, Jarrett Jack and DeMar DeRozan
Stein's Picks: Bosh, Bargnani and Turkoglu
Although DeRozan's speed and athleticism would clearly mesh best with Bosh and Bargnani, I'm too intrigued by the novelty of a Bosh-Bargnani-Hedo triumvirate. It is a game, after all.
---

UTAH JAZZ
Original 1993 NBA Jam Twosome: Karl Malone and John Stockton
2010 EA Sports Ballot: Deron Williams, Carlos Boozer, Mehmet Okur, Andrei Kirilenko, C.J. Miles and Paul Millsap
Stein's Picks: Williams, Boozer and Kirilenko
Williams and Boozer aren't quite as automatic as a tandem as Malone and Stockton were in '93, but Boozer has defied all the skeptics and remained one of the focal points for a team unexpectedly holding one of the West's top four seeds. Kirilenko's renaissance, meanwhile, has been a timely reminder that he's an NBA Jam natural with all that versatility.
---

WASHINGTON WIZARDS
Original 1993 NBA Jam Twosome: Tom Gugliotta and Harvey Grant
2010 EA Sports Ballot: Randy Foye, Mike Miller, Josh Howard, Andray Blatche, Nick Young and Al Thornton
Stein's Picks: Miller, Howard and Blatche
Bill Clinton is one of the more famous hidden characters to unlock with a cheat code from NBA Jam's early days. We're pestering our sources in the gaming community to find out if President Obama — or Washington neighbor Gilbert Arenas — can expect the same treatment in the 2010 edition.