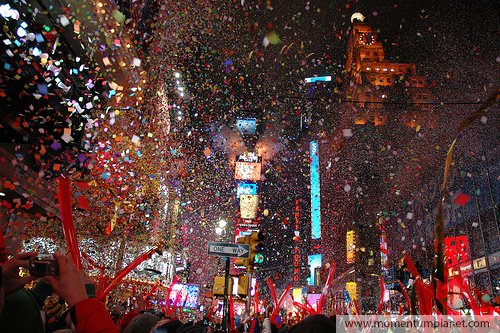 Last weekend at the University Of San Francisco was pure madness and I learned a valuable lesson… never go home with a chick dressed up as a "sexy grinch" and expect her to be a giver. The biggest party night of the year is upon us, everyone is going out getting shitty and looking to get laid. New Years Eve is the one night nationwide where anything and everything goes so enjoy it. Usually I would give a Campus Of The Week and send all you road trippin lushes to one spot, but lets face it the entire country is partying tomorrow night. With that being said you know I will be out in full force tomorrow night and decided to fill you all in on some of the hot spots around the country. A new decade kicks off tomorrow night so start it off right with any of these spots, I got something for everyone out there so take your pick and hit the road.
There are certain spots around the country that just know how to do this night right. Not to shit on the North Dakota house parties, but there's nothing like being in the big city to end one year and start a brand new one. These spots are sure to be pure raggers and should be at the top of your list, so if you don't have plans yet and are in these cities guarantee yourself an epic night and get your ass to these spots.
New York
The mecca of New Years Eve parties, and where I will be getting crazy tomorrow night. There's a reason every major television station has New Years Eve specials from New York, it's  because there is nothing like it any where else straight up. If you like the idea of being crammed into a small space like those videos you see from Tokyo Subways then head towards Times Square and see the ball drop live, as you can tell I will not be there. There are a million clubs to be at and even more drunk people running around just looking to celebrate. One of the big time exclusive spots to be tomorrow night is at Amnesia when they swing their doors open for the grand opening. This mega club has been getting a buzz for weeks now and the night is finally here where we get to see what it is all about, not to mention the 6 hour open bar included with admission.
Miami
The most promoted party nationwide this year takes place in Miami at the Fontainebleau. Now although I am not sure if Lady Gaga is a woman or a man, I am positive I never want to see her pokerface in person but she is hosting this sure to be insane party. This Miami Beach Poolside Party is baller level and your sure to drop some holiday money tonight if your attending. My suggestion if your going do it right, Fontainebleau has VIP Tables, Beds, and best of all Cabanas. The Grand Oasis Pool Cabana for 25 people will run you a cool $25,000 for the night…good luck explaining how you spent your semester's tuition money to mom and dad.
Las Vegas
Now any night in Vegas can be considered a huge party night, but the town turns into an actual playground for everyone tonight. All the major clubs will be throwing huge parties until all hours of the morning, if you don't see the sunrise and your not getting laid you did something wrong. You know everyone's new favorite movie "The Hangover"…yeah well that's exactly how your NYE in Vegas should be. To start the night off right in true Campus Socialite fashion I highly urge you to go see the #1 DJ in world live at Haze Nightclub at Aria. Tiesto will be stopping in Vegas on his Kaleidoscope Tour, and performing live at Haze which will be a show like non other. I have seen Tiesto live countless times and this guy really kills it every time he performs, and a show on NYE should take it to another level. Enjoy it and get crazy, the show will most likely go on until early morning, and don't worry the craps table and crab leg buffets will still be waiting for you when you get out.
Los Angeles
Partying in LA is always a great time but you got to make sure you hit the right spots, especially on NYE. To get to most clubs and bars you need to take a cab so to avoid dropping drinking money and traveling around all night plan ahead. There will be tons of celebrity parties tonight but honestly most of them are weak, there's always a huge line and once you get inside you realize its one or two people that you really couldn't give a shit about and your more interested in hitting on the cougar at the bar swallowing olives. Fake tits and fake tans will be all over the town tonight so your ok in that regard no matter where you go, my pick this year is Haute Cirque at h wood. The night will have all the usual NYE fixens with tables, open bar, attractive crowd, but from what I am told this night will be something out of Alice & Wonderland minus the acid. If your attending h wood tonight please take pictures and try to remember your experience as best as possible because I need to hear about this one in the morning.
Denver
This is a great location for the entire weekend with plenty of skiing and snowboarding a some sick parties too. The biggest party of the night is at the Hyatt Regency called the Champagne Hotel Party, and if its anything like their Halloween parties this should be the only spot to be if your in Denver. 60,000 Sq Ft of partying atmosphere make up this kick ass spot, throw in live music, performing acts, fireworks, and open bar and you got yourself a great night. Best move to make is to book a room at the Hyatt if they are not already sold out. If you mention you are with the Champagne Hotel you discounted room rates for $99 for the night.
Those are my big city picks for tonight, hope everyone enjoys themselves, rages out and wakes up in the morning and immediately regrets decisions made last night. Happy New Year and Keep Living The Dream in 2010…