It is summer time, and although the weather in NY hasn't been ideal, we all know that swim suits and short skirts are upon us.  It is time to make sure your beach body is up to par.  You don't want to be the girl wearing a bikini with a baggy t-shirt over it because your ashamed of your figure. And you don't want to be the guy who won't take his shirt off to go in the pool.  So while your friend has some hot chick named Tiffany with her legs wrapped around his head chicken fighting in the pool, your on the side listening to chumbawumba on your Ipod.
We know going to the gym is difficult and eating healthy is a freaking full time job, but there are resources out there to help you.  Especially on the internet, websites are popping up all the time to help promote healthier living, or just to assist you in sticking to your goals.  Here are a few sites you can take a look at to get you started.
My favorite type of class assignments were the ones that we did in groups.  Dr. Ian believes in strength in numbers as well and started a weight loss program that follows suit.  Studies show that the number one health crisis plaguing Americans is being over weight.  Two out of every three adults (66%) today are considered to be overweight, or even worse, obese.  He basically developed an online weight loss community, where the goal is for Americans to lose 50 million pounds together.  The site also offers health tips, fitness advice, weight loss teams, contests, prizes, diet journals, and much more.   This 50 million pound challenge is sponsored by State Farm Insurance and is a very unique marketing campaign.  The partnership between Dr. Ian Smith and State Farm Insurance is one of the many things that Dr. Ian has going right now.  In addition to The 50 Million Pound Challenge, Dr. Ian provides his expertise as a medical contributor to ABC's The View, Mens Health Magazine and Celebrity Fit Club.  At the time of this post, the cumulative weight loss is over 4.4 million pounds.  And if Kristie Alley loses the weight that she put back on they will be at 5 million pounds in no time.  Check out http://www.50millionpounds.com for more information.
The story of Stickk hits closer to home for us here at The Campus Socialite.  Stikk was started at Yale University, when Dean Karlan (Economics Professor at Yale and Co-Founder of stickK) began doing research on the concept of commitment contracts and how they can help people to Stikk to their goals.  He brought on a student of his at the time, Jordan Goldberg, and the idea for a commitment store became a reality.  I have had the pleasure to have dinner with Jordan and we discussed what it took to get his business of the ground and the plans for Stikk.  It is very simple to participate with Stikk.  All you do is set a goal, more than one if you please, set the stakes (that's where it gets interesting), get a referee (hopefully someone whose not afraid to blow the whistle on you), and add friends for support.  For some of the popular goals like weight loss, quitting smoking, finding a job, and relationships issues, there are communities on the site for extra support.  Personally I think it is a great idea, because if I lost $50 dollars for every time I smoked a cigarette or skipped the gym, you can bet your ass I would do my best to follow through.  (I don't like wasting money, I save my change in a jar) (The jar actually counts it as I put it in, it's pretty cool) Check out http://www.Stikk.com for more information and sign up now.  Let us know what goals you would like to follow through on.  All Campus Socialites should have goals, because we are always looking to improve ourselves.  Can't Stop, Won't Stop, Get it Hot, Get it Hot!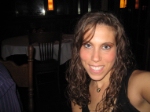 Faryl Blatt is a personal health counselor and she has created a business out of transforming lives.  She doesn't believe that you need to be on a specific diet, she feels that you need to develop healthy habits and create a healthy lifestyle for yourself. Faryl knows what she is talking about, she received training to practice Health Counseling at the Institute for Integrative Nutrition, which is the only nutrition school integrating all the different dietary theories—combining the knowledge of traditional philosophies with modern concepts like the USDA food pyramid, the glycemic index, the Zone and raw foods. She provides personal 1 on 1 attention including an initial consultation to discuss goals and current habits, email, text message and BBM support (gotta love the BBM support), a monthly newsletter, as well as nutrition advice and fitness tips.  She will even take you grocery shopping to help you fill your fridge with the right foods.  Sounds pretty awesome to me.  We will hopefully have an interview with her soon to learn more about her services and see if she has any advice for you to keep off that freshman 15.  The girls fear it, and the guys fear for their girls.  Find out more information at http://www.farylblatt.com
Stay tuned to The Campus Socialite for more health, fitness and nutritional advice.  We need to keep you all looking fly for the summer season.  And not only that, if your not feeling healthy you can't perform to highest potential.   Write that down…