During the mid 1990's, Reggie Miller was despised across the New York metropolitan area simply because he gave their hometown NY Knickerbockers fits on the hardwood. The images and plot-lines of their epic playoff series in '94 and '95 may go down in history as some of the most intensely fought playoff contests of all-time. Who could forget Reggie dropping 25 points in a 4th quarter of an Eastern Conference Finals game while giving the choke sign to Spike Lee or Reggie amazingly scoring 8 points in 8.9 seconds in '95 to once again upstage the Knicks?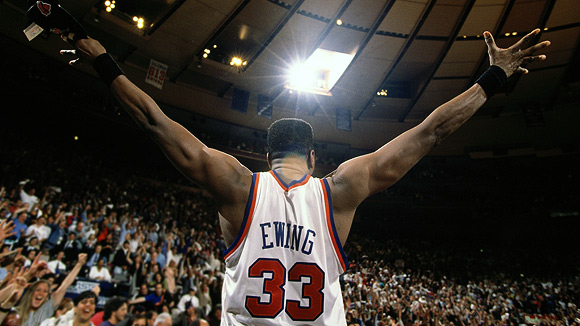 The folks over at ESPN Films certainly haven't, since they are debuting "Winning Time: Reggie Miller vs. the New York Knicks" as their most recent entry in their 30 for 30 Series, which features 30 original films in honor of ESPN's 30 year anniversary. If you haven't had the pleasure of watching any of the films and your a fan of old school hoops, you should check out their newest film, this Saturday, March 14th at 9PM on ESPN. Their most recent entries were "The U" chronicalling coach Howard Schnellenberger and the University of Miami football program's rise to prominence in the late 80's and "Without Bias" which helps us honor both the life and death of former NCAA star Len Bias.
For the rest of this article check out The Hoop Doctors
After the jump check out an emotional Campus Socialite take and a video glimpse into the first 2 minutes of Winning Times:  Reggie Miller vs. The NY Knicks
The Campus Socialite Take: Growing up as a die hard Knicks and Yankees fan there were two moments in my life that I will never forget.  Two moments, that although traumatic, have also had a positive impact on me.  They have stayed in the back of mind while playing basketball with my friends, playing sports video games, or watching my beloved Knicks, Yankees, or Football Giants.  These two moments have created a "never say never", no quit, "it's not over till the fat lady sings" attitude in me that has given me hope when things looked bleak.  The first moment was when the Red Sox came back from three games down to beat the Yankees four straight and advance to the World Series.  As a freshman in college, and an outspoken trash talker, I had never felt such humility from a sporting event.  The word "lock" was forever removed from my vocabulary.  The second moment, and my first experience with sports devastation and heart break was when Reggie Miller scored 8 points in 8.7 seconds to come back and beat the Knicks right in front of my eyes.  From that point forward, watching sports changed for me.  There is no lead that is insurmountable, and the game is not over till the final buzzer sounds.  I can honestly say that I have never met a person that is as big a Knick fan, a more true Knick fan through good, and a whole lot of bad, then myself.  I can also say, that of all the players/coaches we (the Knicks) feuded with over the years, Alonzo Mourning, Hakeem Olajuwon, Michael Jordan, Scottie Pippen, Pat Riley when he went to the heat, I have the utmost respect for Reggie Miller.  When he played his final game at the Garden it was like we were losing one of our own.  As a sports fan, whatever team you call your own, there are certain players or teams that although you must hate, make watching the game and looking forward to game, more enjoyable.  They make games not only fun moments, but lasting memories.  Reggie Miller was one of those players for me.  So, although this movie will probably be tough to swallow, I couldn't be more excited to relive some of those feelings and emotions that were brewing inside of me when watching the Knicks and Pacers battle during the 90's.  It leaves me just hoping that one day as a Knick fan, there will be another player or team that I will hate even close to as much.