By: Lauren Cohen, The Campus Movie Guru (University of Miami)
Follow The Campus Movie Guru on Twitter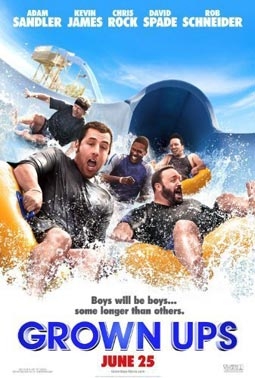 An ensemble cast like Adam Sandler, Chris Rock, Rob Schneider, David Spade and Kevin James is hard to resist. And if I'm viewing the glass as half-full, I can say that I left their film enlightened; this new release,  Grown Ups, taught us a very valuable lesson: no matter how many hilarious stars you pack into one film, if you don't have a plot…it can only do so much to stay afloat.
The "plot": after their beloved middle school basketball coach passes away, a group of 5 once-best-friends reunite after many years for the funeral and a weekend getaway at a lake house. So what exactly happens in the film? What's the objective? Goal? Conflict? I don't really have those answers for you. What I can tell you though, is that despite this absolute oversight in the film, when it was funny…it was laugh-out-loud funny. The trailer had me cracking up at every moment, and, as usual, hosts most of the funniest parts of the film. The film still has some additional fun moments (my favorite involving a game called "Arrow Roulette"), and of course, more gross-out humor than was necessary. The key with a movie like this is to have realistic expectations going in, which unfortunately, I didn't have. The laughs in the trailer combined with the cast had me ready for one of the funniest comedies of the summer…when, in reality, I got a funny movie that was just another of this summers many disappointments.
All in all, it's not Billy Madison or Happy Gilmore by any stretch of the imagination. Chris Rock was vastly underused, and after a while of just watching the friends make fun of each other it started to drag. Thanks to some great cameos and the expected chemistry between the "grown ups", it wasn't a bust. Therefore my overall consensus is one of indifference: if you think you'll like it and this is your type of comedy, you can give it a try. If you weren't crazy about the trailer, definitely don't see it. Either way, your life will not change much.
Rating: C+