By: Alex Scaros, PostGrad
There's nothing a New York sports fan loves more than a guy in charge of a team standing by a promise he made when he took office. That's what Donnie Walsh has done for the last two years, and last Thursday afternoon Walsh made a final push to dump more heavy contracts off the Knicks' payroll for the 2010 off-season.
The Knicks acquired injury stricken former All-Star Tracy McGrady from the Rockets for Jared Jeffries and Jordan Hill. They also traded Nate Robinson for the Celtics' Eddie House, who is a bigger chucker than George Costanza himself, but if the Knicks kept Nate they would lose him to free agency and get nothing in return.
Although McGrady's beat-up and not half the player/athlete he was, he still brings a talented game to New York and showed some promise thus far, dropping 26 points in his debut against the Thunder last Saturday night. At 6'7", McGrady is a great ball handler and passer; he can run the point if D'Antoni wants to sit Chris Duhon more, and McGrady's outside shot has always been among the best in the league. McGrady's in his contract year as well, and he knows he's playing to save his career and prove he still has game. He hasn't played a full season in five years, but the guy is only 30, and this change of scenery might give Tracy the rejuvenation he needs.
McGrady's expiring $23 million contract is the real prize in this deal though and the Knicks now have more than $30 million under the salary cap to play with this off-season. While other teams like the Nets, Bulls and Pistons will have their hands in on the free agent buffet, the Knicks will be dining at the all-you-can-eat Ritz buffet up the street.
Donnie Walsh, aka Donnie "Corleone" Walsh has put himself in a position to make multiple offers that LeBron and others won't be able to refuse. Although the Cavs traded for Antawn Jamison, who I think is a perfect fit for them, the Cavs still may not win a championship this year. The Heat didn't make any moves before the deadline, so where will Dwayne Wade end up? The Raptors were idle too – Chris Bosh?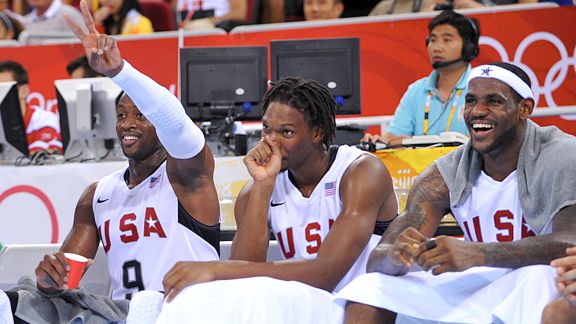 The truth of the matter is that the Knicks have done everything they can to try to land LeBron James this off-season. To say they're clearing space to be able to sign two max contracts is true, but what they really mean is to sign LeBron and let him choose what other superstar he wants to play with.
I said this in my last entry about LeBron, but I will reiterate it again. LeBron James is the biggest free agent in American sports history. He's the most dominant player in the NBA at 25, he's already in his 7th year, but what I think is his most valuable asset that makes him so likable and marketable off the court is his personality. He has the perfect combination of cocky swagger and humble seriousness that a New York athlete needs. He knows how great he is and how legendary he can become, but he always bows his head in the presence of the greatness.
The free agent class is littered with talent besides James: Wade, Bosh, Boozer, Joe Johnson, Ginobili, Nowitzki – the list goes on. Many teams will be able to sign these guys to big contracts, but losers of the LeBron sweepstakes, though they will be improving their team, will be settling for the most expensive consolation prizes in NBA history.
The Knicks haven't been under the cap since 1996 when they signed Allan Houston and Chris Childs, so we have reason to be skeptical. Don't get me wrong, Allan Houston is my all-time favorite Knick (just above Larry Johnson), but Chris Childs? Child, please. I am hoping for the best and preparing for the worst. Knowing the Knicks history, they will probably sign a combination along the lines of Joe Johnson, Carlos Boozer and Manu Ginobili. With a supporting cast of David Lee, Wilson Chandler, Danilo Gallinari, and Costanza (Eddie House), the Knicks will be a playoff team. But they aren't a championship team—and without LeBron, or at least Wade, it seems all for naught. The Knicks have no first round draft picks for the next three years, so they're banking on acquiring enough talent to make New York fans forget about that.
Despite all the pessimism, the living nightmare that Isiah Thomas created, the Stephon Marburys and the Eddy Currys and Jerome Jameses, the constant losing streaks and blowouts—hope is still alive for the King to rebuild his throne on 34th and 8th. There is finally light at the end of the tunnel. $30 million worth.
Alex is a contributing blogger for PostGrad Apartments as well as the writer for the sports blog, Take the Points.