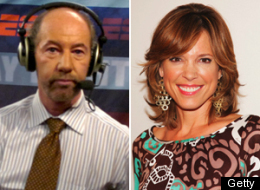 The big news today is about everyone's favorite ESPN TV personality Tony Kornheiser of PTI being suspended for ridiculing ESPN Anchorwoman Hannah Storm's outfit.
"Hannah Storm in a horrifying, horrifying outfit today. She's got on red go-go boots and a catholic school plaid skirt … way too short for somebody in her 40s or maybe early 50s by now.

She's got on her typically very, very tight shirt. She looks like she has sausage casing wrapping around her upper body … I know she's very good, and I'm not supposed to be critical of ESPN people, so I won't … but Hannah Storm … come on now! Stop! What are you doing?"
By the way, Hannah Storm is 47 and looking damn good so you got to respect that.  Check out the image gallery after the jump of hot Hannah Storm.
But Tony K might be on to something here.  Is Hannah Storm jealous of all the attention that Erin Andrews received after the nude video of her leaked?  If you take a closer look at Hannah Storm's outfits, she really has been heating up the late night SportsCenter.  To me it's almost un-needed. SportsCenter is supposed to be my off switch.  After I have sex, I turn on SportsCenter roll over and go to sleep.  After I watch porn at night and finish my business, I turn on SportsCenter and go to sleep.  I don't need some woman trying to get me back in action while I am watching Sportscenter!  That is a no chick zone for me.  Girls don't like to get hit on while their working out at the gym, I don't want to get hard while I am watching Sportscenter damn it.  Is that too much to ask?  I am open to getting hard basically 94% of the day, but leave SportsCenter out of it!
Let's take a glimpse into some of Hannah Storms outfits of late and see if there is any truth to good ol Tony K's diatribe.
From the looks of it, if she was any younger Steve Phillips would have been all over dat shit.
Leave the boots on from that outfit right guys?
And here is our ESPN did you know????
If you type in Hannah Storm into google, what are the following words that appear?
Hannah Storm… Legs
Hannah Storm… Pics
Hannah Storm… Cougar
Hannah Storm… Sexing it Up
Hannah Storm… Boots
Hannah Storm… Albert Belle
So I guess Tony Kornheiser isn't the only one thinking that Hannah is spicing up ESPN's SportsCenter.