By: Bryan Gibberman
Follow Bryan (bgibbs10) on Twitter
New York Knicks owner James Dolan is pulling one of the biggest disgraces in sports history by bringing back Isiah Thomas as a consultant. There have been all sorts of crazy rumors regarding the move and some think this is leading to Isiah eventually regaining his role as President of Basketball Operations for the Knicks.
In any case, one thing we know is Thomas will not be trotted out in front of the media because it would get ugly. This is an idea of how it would go down.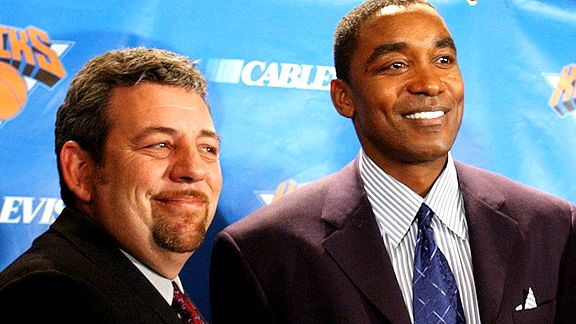 James Dolan and Isiah Thomas walk into the Theater at Madison Square Garden locked arm and arm. They step up to the podium in front Knicks beat reporters, shake hands, give each other a man hug, and pose for pictures.
James Dolan: I would like to reintroduce Isiah Thomas as a consultant for the Knicks organization. I feel he is very important for the future of our team and look forward to seeing Donnie work with him.
Dolan pauses, waits for applause, which never comes and there is an awkward silence.
Isiah then steps to the microphone
Isiah Thomas: I am proud to be back with the New York Knicks. I think the organization is heading in the right direction and I see New York being relevant in the world of the NBA like it should be. I feel my strengths as a talent evaluator, the relationships I have with agents, and the respect this generation of players have for me will be crucial to the Knicks becoming a NBA Championship caliber team. Now I will open up for questions.
Reporter: What went wrong the first time around?
Isiah Thomas: If you think about it I am really responsible for where the Knicks are today. All the moves I made during my tenure directly lead to the roster the Knicks have today. In the end it all comes back to me.
Reporter: In your opening statement you mentioned your talent as a draft evaluator; didn't you take Renaldo Balkman over Rajon Rondo and Channing Frye over Andrew Bynum?
Isiah Thomas: I'm from the mean streets of Chicago, that is all that matters.
Reporter: You signed Jerome James and gave up two first round picks for Eddy Curry, what is your justification for those moves?
Isiah Thomas: I'm from the mean streets of Chicago, that is all that matters.
Reporter: We keep hearing the players of today all look up to you and have great respect for you. The Knicks two new targets, Carmelo Anthony and Chris Paul weren't five years old when you were in the prime of your career. There is no possible way they remember you winning the two NBA Championships.
Isiah Thomas: Have you not heard of ESPN Classic? I am a legend, the legacy of my playing days lives from generation to generation.
Reporter: Everything you have touched has gone to crap. The Raptors, Knicks, Pacers never lived up to expectations, and the CBA folded. Don't you think there is a pattern there?
Isiah Thomas: The problem in those situations was never me. Nothing was ever my fault.
Reporter: What makes you think the Knicks will have more success your second time being involved with the organization?
Isiah Thomas: If there is one thing I have learned over the years is that I have a great influence over the star players in the NBA. People, I got a meeting with Kobe Bryant when he was a free agent and all I could offer him was the mid-level exception. That is power. And with that I am a putting an end to this press conference. I look forward to seeing you all as the New York Knicks team that I was clearly responsible for putting together makes it back to the playoffs.
Isiah Thomas and James Dolan leave the press conference room as all the Knicks beat writers scream and jump trying to get more questions in. Thomas and Dolan leave the meeting as they entered it, arm and arm.
Any questions or comments? I can be reached at bgibberman@ktar.com.