By: Adrianne Marie (University of Miami)
Follow Adrianne on Twitter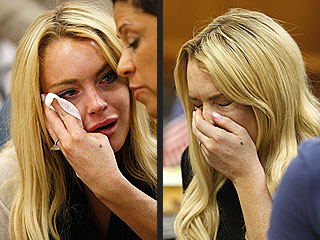 As I'm sure you've heard by now, little Lindsay Lohan is off to jail! With the help of my Tweetdeck, Perez Hilton kept me notified about today's tearful sentencing. "Lindsay knows she's fucked! The judge is telling her how many times she has LIED in the past! #Burn…"
Whenever I think of little Lindsay I recall her adorable days in The Parent Trap and let's not forget the forever-quotable Mean Girls… but then my thoughts are bombarded with the more recent paparazzi photos of a more unreserved and dare I say not-so-flattering Lindsay. Some may say "any publicity is good publicity," but that's definitely not the case for her.
So here are the facts: Lindsay was sentenced to not only 90 days in jail but also 90 days in rehab because she violated the terms of her probation from the 2007 drug case that required her to attend alcohol education classes. Although she hushed the courtroom with an award-winning speech, the judge wouldn't budge. She accused Lindsay of being insincere comparing it to, "somebody who cheats and thinks it isn't cheating if she doesn't get caught." Harsh, yet truthful words if you ask me!
Lindsay was not taken into custody straight away. With her ankle alcohol monitor still on, she has been permitted to surrender herself on July 20. According to an LA County DA spokeswoman, this isn't special treatment, many judges allow defendants to turn themselves in at a later date to get their 'affairs' in order.
Personally, I'm curious to see how jail treats Lindsay. Anybody wanna bet on how long she'll last?