Donovan McNabb will be throwing passes to Terrell Owens again.
McNabb and Owens are teaming up on a basketball court instead of a football field in the new season of Spike TV's "Pros vs. Joes." The episode features NFL players that played college basketball against former NBA stars.
McNabb (Syracuse), Owens (Tennessee-Chattanooga) and Antonio Gates (Kent State) will face Hakeem Olajuwon, Kenny Smith and Rick Fox.
Donovan McNabb played two seasons for the Syracuse basketball team as a reserve guard. More significantly, he was the best quarterback in Syracuse football history.
In terms of basketball, McNabb was a walk-on, playing for Jim Boeheim after the football season ended. McNabb had been a star basketball player at Mt. Carmel High School. His freshman year he was a reserve guard on the team that went to the National Championship game, only to lose to Kentucky. McNabb was often credited with strong clubhouse leadership and breaking the tension among this hoop teammates during the post season. His sophomore season, McNabb was a more significant contributor to basketball. With his explosive athletic skill he was able to provide Syracuse with valuable minutes. In the annual big game against Georgetown, he had a career best 10 points including some impressive offensive rebounds. After his sophomore season, he would leave hoops behind, to focus on his football game.
Terrell Owens was not highly recruited out of high school and the University of Tennessee-Chattanooga recruited him the hardest and was the only school that allowed him to play two sports. While at Tennessee-Chattanooga he played on the basketball team and started five times. He was part of the team that made it to the 1996 NCAA Division I Men's Tournament.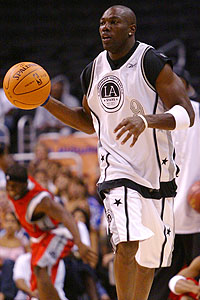 Anotnio Gates had a very successful career at Kent State University.  In 85 games he averaged 16.5 points and 8.5 rebounds per game.  When it came to decide between the NBA and the NFL, NBA scouts said he was a 'tweener' due to his height being listed at 6 feet 4 inches.  He decided to try out for the NFL and was quickly picked up as an unrestricted free agent.  Seems like he made the right decision after all.
Spike TV's "Pros vs. Joes" goes into production beginning March 9 in Los Angeles and premieres Wednesday, July 14 at 10:00 PM ET/PT. The new season, hosted by Michael Strahan and Jay Glazer, will consist of eight one-hour episodes.  (The episode with McNabb and Owens tapes Friday, March 12).
The football stars showcased in the hit Spike TV original series include Warrick Dunn, Isaac Bruce, Derrick Brooks and Jeff Garcia. The basketball legends are Hakeem Olajuwon, Chris Mullin, Kenny Smith, Brent Barry, Isaiah Rider and Rick Fox.
"Pros vs. Joes" features regular guys competing against an array of popular sports legends from the last two decades. Similar to last season, there will be only one sport played in each episode featuring three skill competitions and a three-on-three game pitting the Pros against the Joes. The sports this season will be football (4 episodes) and basketball (4 episodes).