The greatest promoters in our  nation's history all had one thing in common, they knew – regardless of if they even believed in the potential success of the event – that the right amount of hype will put asses in the seats.  It doesn't matter if it is P.T. Barnum or Don King, any notable publicity hound builds their reputation on their ability to get the word out about their cause and never fails to create a buzz.  You can imagine the possibilities when a top promoter just happens to be one of the planet's leading athletic entertainers as well, such is the case of Floyd Mayweather, Jr.  "Money" Mayweather will be pumping his highly anticipated comeback to the boxing ring as he steps into the squared circle tonight on WWE's Monday Night Raw.
With his September 19 showdown against Juan Manuel Marquez taking place at the MGM Grand, Mayweather is bringing the swagger to Vegas a month early as tonight's guest host for Raw.  Hoping to build on the recent success ushered in by celebrity hosts including Shaq and Jeremy Piven, Mayweather is sure to win over audiences nationwide with his showmanship and proclivity for the mic. 
"Money" Mayweather is no stranger to the WWE as he made regular appearances on Raw last spring and defeated the Big Show at WrestleMania XXIV.  Floyd is arguably the best pound-for-pound boxer in the word and a long time enthusiast and friend of the WWE, so, from, a marketing standpoint, this cross promotion is a match made in sports entertainment heaven.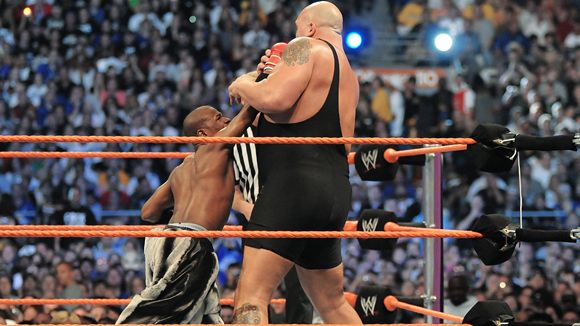 "I can't wait to bring some 'Money May' flavor to WWE Monday Night Raw," said Mayweather.  "When I fought the Big Show, it was a thrill for me to be inside the ring bringing entertainment to millions. Now that I am going to be a host, it takes my relationship and my love for the WWE to a whole new level – wrestling and boxing fans alike are going to be in for a treat Monday night."
It's hard to argue with Pretty Boy Floyd's appeal and one can only imagine the possibilities of when his superstardom meets the Vegas spotlight before a nationwide cable viewing audience. Tune into USA at 9 p.m. ET tonight to see how Mayweather puts his own stamp on the WWE… my guess is that it's going to be a knockout.