By: Bryan Dumas
Last night, President Obama addressed the nation on primetime television as he issued his very first State of The Union address.
Job creation, reducing the deficit, and cutting taxes were the major points of the speech, but the President also said some things that  Campus Socialites around the country should feel good about as well. Let's take a look at some of those points, in the President's own words…
"…in this economy, a high school diploma no longer guarantees a good job. That's why I urge the Senate to follow the House and pass a bill that will revitalize our community colleges, which are a career pathway to the children of so many working families."
Analysis:  President Obama realizes and values the importance of a college education. We've all seen the statistics that confirm what we all know; college grads advance their careers much quicker, and fare better financially than do non-college grads. Our President is committed to providing more opportunities for more young people to attain some sort of post-secondary education and he's encouraging Congress to pass a bill that makes such provisions. Right on!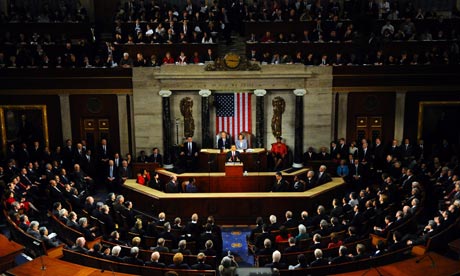 "To make college more affordable, this bill will finally end the unwarranted taxpayer subsidies that go to banks for student loans. Instead, let's take that money and give families a $10,000 tax credit for four years of college and increase Pell Grants."
Analysis: Instead of awarding the banks that give loans to families paying for college, the President would rather lower your family's taxes during the two to four years you're in school as well as freeing up more money for federal grants. Essentially helping the people who need it the most…not the banks. Remember, loans have to be repaid. Grants do not. More grants and lower taxes are good things.
"And let's tell another one million students that when they graduate, they will be required to pay only 10 percent of their income on student loans, and all of their debt will be forgiven after 20 years — and forgiven after 10 years if they choose a career in public service, because in the United States of America, no one should go broke because they chose to go to college."
Analysis: Pretty self-explanatory. The President knows how expensive college can be. Out-of-state tuition at my alma mater is pushing $45K right now for example…ouch! He doesn't want you and your family to break the bank and live a life in debt trying to pay off college loans.  Say you make $30,000 in your first job out of college. If the President has his way, you won't be forced to pay more that $3,000 annually in loan payments. In 20 years, whether you've paid the loans off or not, they will be forgiven. So you'll be free from college debt around the time you're 42, at the latest. Should you decide to say become a community organizer like Barack Obama or enter some other public service career, then those college loans will be forgiven in an even shorter span of 10 years. The man said it best  "no one should go broke because they chose to go to college."
So there you have it. Keep working hard, keep playing hard socialites. The President is in your corner.