In the interest of full disclosure, I think it is only right for me to preface this review by letting you know that I am an enormous Harry Potter fan and have read every book in the series.  Really, I was so excited as I sat in the NYC Lincoln Square IMAX Theater for the hour before the movie that I had a film of my own going on – Brad Wellen and the Half-Erect Wang.  That I sacrificed a night on the town for a rare IMAX showing of HP 6 speaks volumes to my love for all things wizard and fortunately the Hogwarts gang did not disappoint in their most recent installment of the enchanting magical saga.
From start to finish, each scene of Harry Potter and the Half-Blood Prince keeps the audience engaged and under the spell of a tightly woven, intriguing storyline.  The film opens with a wildly explosive assault by the Death Eaters (supervillain Lord Voldemort's posse of bad dudes for all of you noobies) on the Muggle world (normal humans without magical powers) complete with Stone Cold Steve Austin-like glass breaking and more property damage than Lindsay Lohan, Heather Locklear, and Nick Hogan could ever inflict with their cars.  This sets the tone for an astonishing visual display that continues for the remaining 2 and a half hours and keeps everyone in the crowd wide-eyed and on the edge of their seats.
The main premise of the flick is Professor Dumbledore's mission to discover the secret of Voldemort's power and in doing so he must enlist Harry's help and embark on a thrilling and dangerous adventure.  With action taking place both in the present and critical moments in characters' past, HP 6 has no shortage of climaxes and offers a complete look at the foundation of J.K. Rowling's series of masterpiece novels.  In no other Potter film is the drama thicker than in Half-Blood Prince where a shadowy and dreary tone is cast over Hogwarts as students are falling victim to a mysterious curse and no one is safe from the influence of dark forces. 
Whether it is a wacky Quidditch match, some strong sexual tension between maturing young adult wizards, or a spellbinding wand-on-wand showdown, Harry Potter and the Half Blood Prince has something for everybody.  My only word of advice is to try to see it in IMAX 3D since the first 15 minutes are all shot in the third dimension and fall just short of makeup sex (yes, it may just be better than conventional banging).  The movie will not be released in IMAX nationwide until July 29 (thank you douche bag Michael Bay for keeping Transformers: Revenge of the Fallen in IMAX through the end of the month), so for now you'll have to hop on a broomstick and get to NYC or LA to find a 3D showing.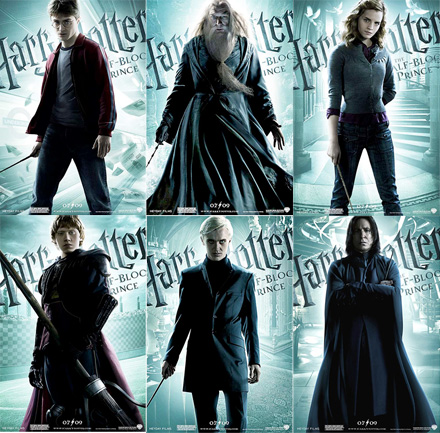 Harry and his potion drinking buddies did a bang up job in this summer blockbuster earning them 3.5 out of 4 stars on the Campus Socialite movie meter.