By: Lauren Cohen, The Campus Movie Guru
Follow The Campus Movie Guru on Twitter
Have you ever had that feeling where you're sitting there watching a movie, and out of nowhere, a particularly random or outrageous scene comes on that forces you to take yourself out of the movie for a moment and think to yourself…WTF?! Of course you have! Read on for the Top 20 WTF Movie Moments and see if any of your favs made the cut!
20. Old Rose throws the Heart of the Ocean into the water – Titanic – I have to start off by saying that Titanic is one of my all-time favorite movies. But when coming up with this list, I couldn't shake off the memory of what my father said after finishing the movie: "You want to know what the saddest part of the movie was? When the old lady threw that huge diamond into the ocean!"
19. Spider-Man goes Emo – Spider-Man 3– The greasy, straight hair, the eyeliner, and all those black clothes…Oh what were they thinking?!
18. The Musical Number in Billy Madison – I think most people were a little caught off guard when Adam Sandler and cast broke out into song and dance absolutely out of nowhere in this mini musical number. "Do you have any more gum, more gum, more gum, more gum?"

17. Simultaneous Sex/Fight Scene – Shoot Em' Up– When I first saw this scene I really didn't know what to think. It is quite possibly THE most absurd sex scene in the history of cinema, but Clive Owen banging the incredibly sexy Monica Bellucci while taking out multiple people trying to shoot him? That's just too badass to hate!
16. The Head Spin – The Exorcist – "Your mother sucks cocks in hell!" The Exorcist definitely had its choice of WTF moments, but I had to go with the most famous: When Linda Blair's head makes a complete 180 while speaking in the devil's voice…chilling!
15. The Naked Break-Up – Forgetting Sarah Marshall – Half-naked Peter walks into the room, and upon realizing that his long term girlfriend Sarah Marshall is about to break-up with him, drops his towel, and shocked audiences all over with his blatant full-frontal nudity. What makes this scene even better? Something very similar happened to Jason Segel in real life, inspiring him to write it into the script.
14. Dick Drawings – Superbad – "
When I was a little kid, I kinda had this problem. And it's not even that big of a deal, something like 8 percent of kids do it. For some reason, I don't know why. I would just kinda…sit around all day… and draw pictures of dicks." And with those words came the most outrageous (and creative, might I add) montage of dick drawings in the history of the world.
13. Dr.Gordon sawing off his foot – Saw – When a desperate Dr.Gordon saws off his chained foot in order to free himself, everyone finally (and unfortunately) found out one of the reasons behind the movie's title…while probably wishing they hadn't.
12.
Birthing Scene – Knocked Up – Birthing scenes in movies are usually hard to watch in general. But when the birthing scene in Knocked Up went as far as to show us…up close…the babys head crowning…well, lets just say I haven't heard shrieks like that since
Paranormal Activity
came out.
11.
Snake in Toilet – Snakes on a Plane – "SNAKE GET OFF MY DICK!" I think that says it all.
10. The Pencil Trick – The Dark Knight – Just watch the scene…you'll never think of magic tricks the same ever again.
9.
Baby Crawling on Ceiling- Trainspotting – Note to self: when going through heroin withdrawal, one might have disturbing images of a scary crying baby crawling towards him/her on a ceiling. May this serve as a warning.
8.
The ending of  "Orphan" – Orphan – I don't want to give anything away, so I'm just going to say this: I was entirely uninterested in seeing the movie Orphan, so instead of wasting the $10 I decided to look up ending spoilers online…what can I say, I love a good twist as much as the next person. However, after reading the ending, I sat there for a good 15 minutes and just thought to myself: How could someone possibly think up any such thing? And who was stupid enough to think that this was a good ending?!
7. The Rocky Horror Picture Show…
the entire movie
– If you've seen the movie, then you already know that this requires no explanation. "I'm just a sweet transvestite…from Transsexual, Transylvania!"
6. Frank the Bunny – Donnie Darko – After watching Donnie Darko for the first time, most people are usually still reeling from the mind-screw that they just experienced for a good amount of time afterward. However, even with all the other unimaginably trippy stuff going on in the movie, I think its safe to say that the creepy, incredibly random Frank the Bunny is what sticks with you the most and just has you thinking to yourself: WHAT. THE. F*CK was up with that?!
5. The pie sex scene – American Pie – When inexperienced Jim asks his friends what third base feels like, they reply by saying it feels "like warm apple pie". But apparently this explanation wasn't enough, and good ol' Jim just had to experience it for himself…with what else but some warm apple pie! Everything gets even more hilarious when his father walks in on him in the act!
4. Penis caught in zipper – There's Something About Mary – After Ben Stiller's penis got stuck in his zipper while going to the bathroom in his beautiful dates house right before the prom in There's Something About Mary, I have a feeling guys all around the world developed a new phobia.
3. Naked man in trunk – The Hangover – This movie is overflowing with one WTF moment after another…so in a movie filled with stuff perfect for this list, just know it had to take something pretty shocking to make the #3 spot.
2. Puppets sex scene – Team America: World Police – I would expect nothing less from a movie by the makers of South Park. But even so…
…And the Number 1 spot goes to………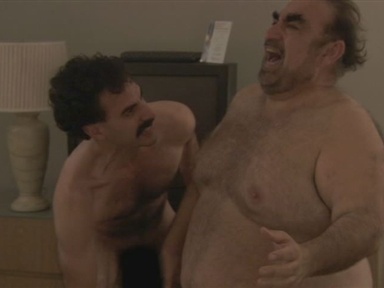 1. Man-on-Man Naked Fight Scene – Borat– Two very hairy, very naked men wrestling, fighting and putting their balls in each other's faces…in public. You truly need to see it to believe it.