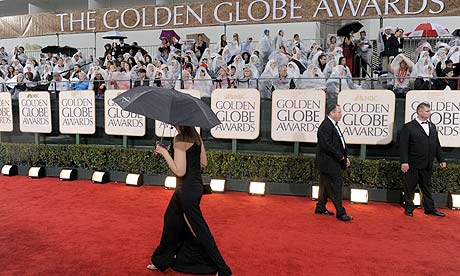 Last nights Golden Globes marked the beginning of the awards season! How exciting!
Since watching "Live from the Red Carpet" is obviously so much more entertaining than watching the actual awards I thought I'd bring the red carpet to you (in case anyone missed it last night). So here it is, The Campus Diva top three hits and my top three misses of the night.
Hits:
1. Kate Hudson: Although her dress is very controversal (many loved it while many thought it looked like a "pillowcase". Personally, I love the color and the uniqueness of it. In my opinion Kate looked classy and hip.
2. Zoe Saldana:
The Avitar cutie looks fabulous in this deep red classic with a twist.
3. Sandra Bullock looked fashionable and cute in her Bottega Venta dress. The color was perfect and the dress was sexy without being too revealing.
Misses:
1. Tina Fey: From the pattern to the length this dress misses it in so many different areas. Although I'll give it to her that it is just as quirky as she is its just too much for me and not in a good way.
2. January Jones: What is with the headpeice?  The dress looks more like a choir gown  then a dress for a read carpet. And what is going on on her shoulder?
3. Anna Kendrick: Unfortunately , I can see the effort there, but this dress was a complete miss. From the pattern to the off the shoulder mess its was anything but flattering.