By: Brian Dernulc
A quick word on the NCAA's continued incompetence before I get to the games.  Why in the hell would they put Syracuse in a region where its game is going to run simultaneously with the games being played in the Carrier Dome?  Yes, I am well aware Syracuse couldn't be put in the East to play in the Dome and that the scheduling is done before the tournament starts, but the crowd in Syracuse is going to suffer because of it.  I guess the NCAA got their money by having tickets sold out so they no longer care about the concessions the site will lose out on by the scheduling conflict.  Oh well.  I should probably stop wasting my time trying to figure out the NCAA's logic.  On to the games…
#1 Kentucky v. #12 Cornell
How much longer will the slipper fit?  That's the question on the minds of engineers, mathematicians, paper salesmen, and other assorted professions that require high levels of intelligence everywhere.  Cornell has become the darling of the tournament (no disrespect to Northern Iowa, but it's true) after handily beating a very good Temple team and then dismantling a good Wisconsin team.  Plus, in case you haven't heard, they're an Ivy League school that gives out no athletic scholarships.  I said that, despite not picking them, I thought Cornell was underseeded as a 12 and they are proving that.  I guess the Selection Committee made up for it by placing them in the East where they are now rewarded by having to play just an hour north of home, in Syracuse. 
That's where they'll meet big, bad, cheating Kentucky.  Sorry, I don't know about the cheating part, but going on John Calipari's reputation it's pretty much assumed at this point right?  Speaking of John Calipari, is anyone else sick of hearing him talk about how they are just a bunch of freshmen and sophomores out there and they shouldn't be the favorites and all that shit?  You're talking about the same guys who will be lottery picks in June and competing against the best players in the world a few months after that?  You have the most talented team left in the field, you're the favorites.  Just stop it, Cal.  Your act is tired.  Look at it this way, maybe your team's youth will hold them back enough so you don't end up with a third vacated Final Four on your already marred record.  Ok, glad I got that out.
As for the game, I think the clock strikes midnight for Cornell at… well, around midnight.  As the second game in the Carrier Dome on Thursday the game is slated to tip-off at 9:57 and I think Cornell will hang around for quite a while.  There are two ways for them to stay in it and give themselves a chance at the end:  1. Make their three pointers.  This means they need to get Ryan Wittman going early.  Against a Kentucky team that doesn't shoot well from the outside, if they can hit their threes early and make Kentucky start forcing things, the Wildcats might start turning the ball over.  2. Jeff Foote must stay out of foul trouble.  The seven-footer is the only viable defender for DeMarcus Cousins and others down low.  If he has to sit early Kentucky can have their way in the paint and the game could get out of hand for Cornell quickly.  Unfortunately, I have my doubts about the latter and I think Kentucky's size and athleticism will just be too much for the otherwise undersized Big Red.  I will be rooting like hell for Cornell in this one and I would love to see a close game at the end when the partisan crowd and the senior experience can help them pull out a victory.  However, I am afraid that is nothing more than wishful thinking.  The Pick: Kentucky
#2 West Virginia v. #11 Washington
The Mountaineers will meet their third double-digit seed opponent when they clash with the Huskies on Thursday.  They have looked solid, although unspectacular, in their first two games which is what I've come to expect out of West Virginia this year.  I don't have a lot to add on them in this game as I expect more of the same out of them and another win devoid of style points.  They just need to keep doing what they have been doing and they'll continue to move on.  What they need to differently, however, is change their in-hotel entertainment.  I know there isn't a lot to do in upstate New York.  Trust me, I know.  That being said, bring an Xbox or something to keep yourselves entertained when you're stuck in the hotel with nothing to do.  Don't bring your Brian McKnight CD, or choreograph a dance routine with your teammates, or use the hotel pillows as childish props before you begin hitting each other with them.  But if you're so immensely bored that you're forced to do any of those things, please leave the cap on the video camera and keep the evidence off your Twitter account.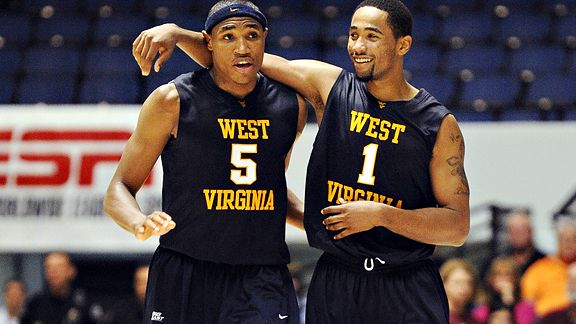 Washington has shot the ball at a very high clip so far this tournament. I am not sure that can continue. They escaped from Marquette and then handled their business against New Mexico, but West Virginia is a different animal. In addition to the inevitable shooting slump I see coming, their best player, Quincy Pondexter, should be neutralized in this one as he runs into a bevy of players who can match his combination of size and athleticism. This will force him to work extra hard on both ends of the court as his counterparts stay fresh switching on and off of him all game long. I really don't know how this game stays close unless West Virginia lets it stay close. The Pick: West Virginia
And you already know I have West Virginia coming out of the region. Nothing has changed.
Stay Tuned for my other Sweet 16 regional breakdowns!