By: Brian Dernulc
Final Four – "Orange is the Happiest Color"
If Frank Sinatra says so, it must be true.  In the interest of full disclosure, I have spent the last 7 years of my life as a Syracuse University student, first as an undergrad and currently as a law student.  I bleed orange when it comes to college basketball and find this team incredibly fun to watch.  In this day and age it's nice to see a team with no top 50 recruits not only compete nationally, but thrive.  They are a group of once under-appreciated players who have developed into a team in every sense of the word.  They have connected with their large, basketball crazy, fan base unlike any Syracuse team I've seen and no longer have players that everyone loves to hate.  They are as fun a team to root for as I've ever had in any sport in my entire life as a sports fan.  And none of that has anything to do with why I am picking them to win the national title. Seriously. I promise.
West Virginia
The Big East has been the best conference all season long and that will be on full display in Indianapolis at the Final Four.  As I referenced when I discussed them in the East Region breakdown, there are a lot of reasons to like and dislike this West Virginia team.  They have a nice blend of NBA caliber talent and role players.  They have no bad losses, unless you count on the road against UConn a bad loss, which I don't because they looked like a tournament team at that time.  They also play aggressive and tenacious defense.  On the flip side of the coin, they struggle to shoot from outside and lack consistent play from the point guard position which usually is problematic in March.  The difference between West Virginia and most other teams in years past that had those same problems:  West Virginia provides matchup nightmares for a lot of teams at a lot of other spots on the floor.  Due to their length and athleticism teams that try to go small against them often have trouble.  They are one of the best rebounding teams in the country and they create a lot of extra possessions for themselves by hitting the offensive glass so hard.  Occasionally, West Virginia will struggle with quick, attacking guards (like Scottie Reynolds and Corey Fisher), but if they outrebound Villanova, which strangely they didn't do in either their win or their loss against them this season, they will be fine.  Also, I'll take Da'Sean Butler on my team any day.  If Evan Turner is 1, then he's 1a on the list of players I want taking the final shot in a game.  It means a lot when you have a guy like that.
Villanova
Speaking of guys like that – Scottie Reynolds.  No player has struck more fear in me than he has over his career.  He keeps his team in the game all the time and when his team needs a bucket he's more than happy to step up and take it.  I won't miss him as a Syracuse fan, but I will as a basketball fan.  I've also made clear my affinity for Jay Wright as a coach and love what he gets out of his players, but I am not sure even he can get this team much farther than a Final Four appearance.  Getting this far is more of a product of their weak region than anything else.  I think you put them in anyone other than Duke's region and I think you're talking about an Elite 8 team and nothing more.  Unfortunately for Villanova fans, the rubber match goes to The Mountaineers who will represent the right side of the bracket in the National Championship game.
Kansas
I have thought for some time that Kansas and Syracuse were the two best teams in the country and it's a shame they are on the same side of the bracket because who wouldn't want to see a rematch of the 2003 championship?  Although Kansas will have a much easier first two games, they are in the toughest region and whoever they have to play in the Sweet 16 and Elite 8 will be better than whoever Syracuse has to play.  As I said in my Midwest region breakdown, I do think Kansas is the best team in the country by a little bit, but that team doesn't always win the title.  In my opinion, they have more stumbling blocks in their way from a basketball perspective than any of the Final Four teams.  They have handled the pressure of having a target on their back all season long and it won't surprise me in the slightest to see them continue to handle it, but I think there are one too many obstacles in their way.  Kansas has provided matchup problems with everyone they've played this year, but they won't have that advantage against Syracuse who can match their size down low and while they don't have anyone to match up with Sherron Collins they won't need to because of the zone.  I still believe Kansas has the most talented team in the tournament with Collins, Aldrich, Xavier Henry, and Marcus Morris, but they haven't seen anyone like Syracuse yet and I think they struggle with the Orange.  Either way, I do think the winner of the Kansas-Syracuse game will cut down the nets.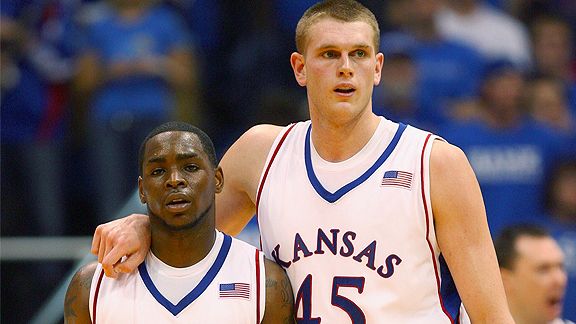 Syracuse
So why am I picking Syracuse if not for the aforementioned reasons?  Most importantly, I trust that Arinze Onuaku will be healthy and able to contribute.  Will he be limited?  Sure, but Syracuse's success has never once hinged on AO's contributions.  He's a body who provides a tough matchup for a lot of teams, but he can score 20 and they can lose or he can score 2 and they can win.  It really doesn't matter what he's capable of, but they need his presence.  Secondly, I referenced the stat in my West Region breakdown when talking about Murray St. that Syracuse is the only other team in the field that shoots over 50% from the floor and holds their opponents to under 40% on the defensive side of the ball.  Those teams do very well in the tournament.  Always.  If you score and you stop your opponent from doing the same, good things usually result.  Third, I heard this stat a few weeks ago – 4 out of the last 5 national champions have led the nation in field goal percentage going into the tournament.  Who is that team this year?  You guessed it.  Syracuse.  Finally, Syracuse plays a 2-3 zone and they play it better than anyone else in the country.  People point to the late season losses against Louisville and Georgetown as evidence that Syracuse has been exposed.  Wrong.  Rendering Syracuse's 2-3 zone ineffective requires a certain style of play.  You must be patient, or you must shoot and make an inordinate amount of three pointers because long rebounds lead to run outs and nothing will ensure a loss more than letting this Syracuse team get out in transition.  Big East teams see Syracuse's zone every year and are used to practicing for it and playing against it. Add to that the fact that a team like Louisville always causes problems because of their style of play.  Georgetown has Greg Monroe, who put on an absolute display on how to breakdown the zone from the high post, but unfortunately for everyone else, he might be the only player in the country capable of doing it from there.  Teams that don't see zone all the time normally struggle against it because a lot of offenses are geared toward beating man to man and the Syracuse zone is not easy to prepare for in a short time.  That's just a fact.
I hope I'm right, but if not…see my Rule #1 and you'll know my pain is double.
I wish you all good luck in your brackets and stay tuned to The Campus Socialite all March long as I continue to provide analysis and insight as the Tournament progresses.  Follow along with my picks by checking out my Tournamentality! bracket below.