By: Brian Dernulc   
What an exciting first day of games.  I'll fall in line with everyone else and say it's the best first day of games I can ever remember.  I guess I picked a good year to do nothing for my spring break except sit at home and watch basketball.  I'd love to say I planned it like that, but, sadly, that would be a lie.    
The Big East was pathetic all day yesterday.  Notre Dame set the bar early with a performance that my older brother (a Notre Dame graduate) could only describe as "heinous."  Couldn't have said it better myself.  Just abysmal basketball to watch.  Luke Harangody, thanks for showing up.  I am glad I don't have to see Mike Brey's ugly jacket/mock turtleneck combo anymore.  It's hideous.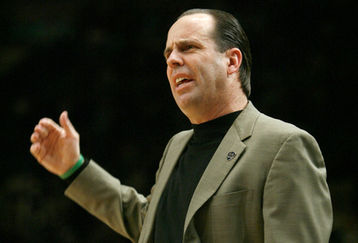 Villanova apparently thought it was a game of limbo as they tried their damndest to set the bar lower, only to have the refs bail them out down the stretch.  Jay Wright, you know I love you, but save the teaching moments for some time other than the first round of the NCAA tournament.  Scottie Reynolds looked awful the whole game.  I can only hope that that was the worst we will see out of Nova.  
What'd I tell you about Jimmer Fredette?  He can ball.  37 points, including some huge buckets.  Those of you that worked during the early round of games and were unable to catch BYU, find out when they play on Saturday and gather around the tube.  It's appointment tv.   
Murray St. kept the excitement going as Danero Thomas hit a big time buzzer beater to take down Vandy.  Awesome.  This is what the tournament is all about.  I told you teams with their offensive and defensive stats do well in the tournament.  I hope you listened, for at least the first game.  
Kansas St. won big.  Frank Martin is intense even in blowouts.  He still scares me.  
Baylor let Sam Houston St. hang around longer than I thought.  I'm not worried about it.  They'll be fine. 
Omar Samhan sure didn't disappoint as he put up a man-size 29 point, 12 rebound performance.  Put his team on his back for a while until they were able to pull away in the second half.  If Nova plays like they did in Round 1, this second game won't be close. 
UTEP made a real strong argument for worst half of basketball we'll see in this year's tournament.  It will take a monumental lack of effort to match that second half stinkbomb.  Up 6 at the half, they ended up losing by nearly 20.  Gross.  I also want to blame Butler for the nightmares I had last night seeing them bomb 3 pointer after 3 pointer (setting the record for most 3 pointers in a first round NCAA Tournament game) as they are on a crash course to meet Syracuse's 2-3 zone in the sweet 16.  I think I'm getting tremors again.  Let's move on. 
My hunch worked on Northern Iowa.  I had no idea who Ali Farokhmanesh was before this game, but I now know that shouldn't be left open from behind the arc.  I can't help but think that their overall team experience played a factor in winning this close one. 
Kentucky took care of business in a big way.  Eric Bledsoe hit 8 three pointers?!?  Raise your hand if you think that is repeatable.  Yea, I didn't think so.  They are the worst 3 point shooting team in the tournament for a reason.  Fluky games happen, especially against teams like E. Tennessee St. 
Marquette continued the Big East's poor showing as they let a second half lead slip away.  Props to Quincy Pondexter for taking the ball strong to the rim when his team needed a bucket.  I get sick of seeing guys pull up for threes when a 2 is all that is needed.  Well done, sir.  
Oh Georgetown, where do I begin?  One of the worst defensive efforts I've seen in some time.  I was shocked when I found out Greg Monroe had 19 points and 13 rebounds, but I guess when you play defense the way they did, it doesn't really matter who does what on the other end.  Armon Bassett, a favorite of mine from his days at Indiana, just torched the Hoyas.  I had them in the Sweet 16 and no further, so no major damage to my bracket.  I gotta be honest, I loved watching it. 
A nice set of late games closed out the night.  Kansas started rough, but eventually cruised.  Nothing to see here.
A game effort from San Diego St., but Tennessee was just too much in the end.  I don't like watching Tennessee play so, honestly, I didn't watch much of this game until mid to late second half.
Rick Barnes, you never fail to disappoint.  Not sure who gets more out of less than you do.  First, they miss a free throw at the end of regulation to win the game (not Barnes' fault), but blowing an 8 point OT lead with under 3 minutes to go has to fall on the coach a little bit.  Ish Smith hit a big shot to win the game after opening the OT with a couple of turnovers that led to 5 points the other way.  Confidence is clearly not a factor with this kid.
New Mexico got a scare when Darington Hobson went down in the first half and looked like that injury could be a factor the rest of the game.  Other guys stepped up for the Lobos though and they got by Montana.  Also Montana's coach's name is Wayne Tinkle.  My occasionally sophomoric sense of humor reared its ugly head every time his name was mentioned.  I think I'll miss him on the weekend.
Friday's games can't possibly live up to Thursday's, but I'll grab a few beers, a seat on my couch, and I'll watch them anyway.  I hope you get to do the same.