By: Brian Dernulc
South Region – "SuperNova"
You know how sometimes you're at a bar and there's a group of unattractive girls standing across the way, but after a few drinks you begin to convince yourself that one of them isn't half bad so you just keep justifying it to your buddies by pointing out her positive attributes, while blatantly ignoring her flaws?  That's how I feel about this region.  I look at this portion of the bracket and think that no matter which direction you go, you're settling for a team and really just talking yourself into the least unattractive girl of the group.  That's not a good feeling.  The #1 seed Duke, led by "all-everything" guy Kyle Singler, has played well recently, but I just can't buy into a team with so little athleticism and only 2 guards that see any significant time.  After all they did just struggle to put away Virginia, Miami, and Georgia Tech in the ACC Tournament.  And the #2 seed Villanova has struggled a bit down the stretch and are so reliant on Scottie Reynolds to put them on their back that a bad game might expose them to an upset.  There are a couple potentially dangerous matchups for the top line teams but there is no depth in this region so other than Duke and Villanova, can you really see anyone else coming out of the South?  Me neither.
On to the First Round Game by Game Breakdowns…
#1 Duke v. #16 Winthrop/Arkansas – Pine Bluff – Rather than wasting your time trying to break down this game, can we just all agree that the Play-In game needs to stop?  It's not a real NCAA Tournament game and nobody gives a damn about it.  Drop back to 64 teams (and my God, please don't expand to 96) and give all the tournament champions of the minor conferences a chance at one of the big guys.  I don't think the people of Dayton will hold any grudges if you rip the Play-In game from them.  I am continually convinced the NCAA is a collection of senile old people who no longer have a grasp on reality.  The Pick: Duke
#8 California v. #9 Louisville – An interesting first round matchup between two enigmatic teams.  Cal won the regular season Pac-10 championship which means almost nothing and Louisville beat Syracuse twice this season and then got bounced by Cincinnati in the Big East Tournament.  Both teams have talent, but have been hampered by inconsistencies all season long.  I am going to defer to the experience of Rick Pitino and assume he finds a way to advance onto the second round.  The Pick: Louisville
#5 Texas A&M v. #12 Utah St. – This is why Utah St. got in the field huh?  So the Selection Committee could humor themselves in a battle of the Aggies?  Well played, NCAA.  An Aggie, for those of you wondering, is a slang term for someone who attends an agricultural college.  So is this a battle of future farmers?  I have no idea.  I do know that Utah St. was the last team in the field of 65 and that A&M finished tied for second in a very competitive Big 12 and have a very good player named Donald Sloan.  The Pick: Texas A&M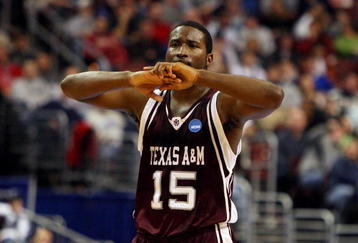 #4 Purdue v. #13 Siena – A few weeks ago I thought Purdue was one of the few teams that could win the whole tournament.  Then they lost Robbie Hummel and I knew they couldn't win it all, but thought they were still a decent team and their performance showed that.  Then they scored 11 first half points against Minnesota in the Big Ten tournament.  I said 11 first half points!  I don't like putting too much  stock in one game of basketball, but that was an abomination.  Now I know they aren't even a decent team anymore.  The loss of Hummel has demoralized this team to a point of no return.  They are done.  Siena has pretty much only lost to quality teams all season long and although he won't see any playing time in the tournament they have a player named Just-in'love Smith on its roster.  I am not kidding.  You can't make this stuff up.  This pick is as much of an indictment on Purdue as anything else.  The Pick: Siena
#6 Notre Dame v. #11 Old Dominion – I don't think I've ever see a team change styles of play so drastically and have it pay immediate dividends as Notre Dame did when they lost their All-American power forward, Buzz McCallister, I mean Luke Harangody (seriously if he carried around a pet tarantula or hung out with Macaulay Culkin would anyone know the difference?).  The team that used to run down the court and shoot 3 pointers as quickly as possible and play no defense is gone and it has been replaced by a slow, methodical, bring their best player off the bench team.  It's been nice to watch the team adjust to the changes so fluidly and their senior point guard, Tory Jackson, is a lot better suited to run this type of offense.  Old Dominion is a tough draw for them though.  The Monarchs won their conference's regular season and tournament titles and have no problem playing at the slow pace the new look Irish will employ.  I think Gody makes a couple of big plays down the stretch though and Notre Dame lives to see the weekend.  The Pick:  Notre Dame
#3 Baylor v. #14 Sam Houston St. – I really like the Baylor Bears.  They have a dynamic guard combination in Tweety Carter and LaceDarius Dunn and they aren't lacking in skill down low either.  They've lost to the top level teams that they were suppose to lose to, but they've beaten pretty much everyone they were suppose to beat and Sam Houston St. is one of those teams.  The Pick: Baylor
#7 Richmond v. #10 St. Mary's – This is probably the best game between two teams that very few people have seen play once this season.  However, being a night owl, I catch most of the West Coast Conference games that get shown at midnight on ESPN sporadically throughout the season.  Those games almost always involve St. Mary's or Gonzaga so I've seen them a few times this year.  St. Mary's is a well coached team that has a high quality college big man in Omar Samhan, but also have a couple of good guards that can get the big guy the ball.  Richmond is no slouch though, finishing a game back in the A-10 regular season standings and has a very nice win over Temple.  I really think this game could go either way and won't hate you if you go against me on this one, but I think St. Mary's will carry the momentum from finally getting by their bugaboo Gonzaga in the WCC Tournament Final into the NCAA Tournament and move on.  The Pick: St. Mary's
#2 Villanova v. #15 Robert Morris – Villanova has struggled down the stretch, going 2-5 in their last 7 games, but don't let that scare you.  I attribute those struggles to a really tough schedule to close out the Big East and nothing more.  Am I crazy?  Maybe, but that's fine.  For my money, Jay Wright is the best coach in all of college basketball, who always maximizes the talent on his roster and Scottie Reynolds is as tough and as clutch a guard as there is in the country.  That's a really good combination in March.  Reynolds and Corey Fisher must play well if Villanova hopes to advance all the way to the Final Four, but that won't matter in their first round game.  The Pick: Villanova
How will the rest of the region shake down?
If I were Duke I would not want to see Louisville in the second round.  That press could give them fits since they have no true point guard and lack athleticism and depth at the guard position.  At the same time, it wouldn't shock me to see Louisville lose in the first round so I'm going with Duke to advance into a matchup with #13 Siena in the Sweet 16.  Siena will pull off another big upset in the second round by beating Texas A&M, but the dream will come to an end against Duke, who will move on to the Elite 8.  That top half could get wild though if Duke goes down in the second round so watch out.  In the bottom half of the bracket I like Baylor to beat Notre Dame and Villanova to beat St. Mary's setting up a matchup of two of the best backcourts in the country in the Sweet 16.  I think the experience of Villanova will be the difference and they will meet Duke for the right to go to the Final Four.  Villanova will make it to the National Semis for a second straight year and is my team to come out of the South.  I think that the Big East is far and away the best conference in America and all those tough games will pay off against Duke.   Scottie Reynolds' spectacular career will roll on to Indianapolis, but Jon Scheyer's will come to a close in Houston.
If you haven't already seen it, check out my breakdown of the East Region and stay Tuned for a complete look at the Midwest Region!