By: Gina Reis (University of Minnesota)
Follow Gina on Twitter
As summer is quickly approaching, so is the 2010 World Cup in South Africa. Interested in what my guy friends had to say about the World Cup, I walked down the hall and asked them a few questions. What seemed to come up in conversation was complete insanity of World Cup fans—i.e., painted bodies, flag-made outfits, and those insanely loud horns (called vu vu zelas), which my guy friends happen to have and blow frequently out their windows. We jumped from the broad topic of fans quickly to women fans, who are known to attend the World Cup with next to nothing on but a tiny flag bikini and/or a painted body to mask her nakedness. That got us thinking—which World Cup team has the hottest women fans behind it? This goes to show what's really on a guy's mind: sports and women. This list is mostly for the soccer-loving guys out there, so enjoy.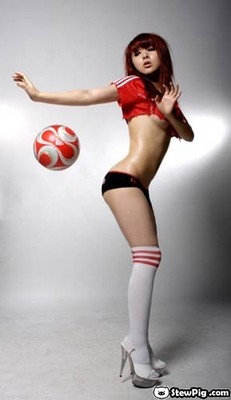 #10. Japan
Just making it on the top 10, Japan's lady fans, especially this one pictured here—are hot stuff. I'm guessing their number 1 player may be Shinji Okazaki, 23-year-old star of Japan's team. I looked him up, and ladies, he's kind of a beast. (Sorry I have to interject something for the girls somewhere).
#9. Germany
Das ist gut! Germany's lady fans not only love their team, but love their beer. Always a good thing.
#8. The Netherlands
The Dutch are apparently one of the favorites to win the World Cup, even though their last title dates back to 1988. Obviously they are excited; keep an eye out for their outfits.
#7. France
These ladies know how to present themselves for the game: belly shirt, check. Body paint, check. French flag skirt, check.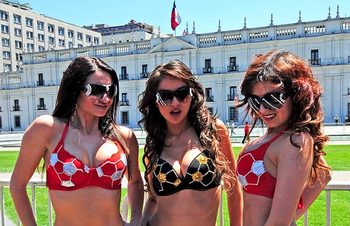 #6. Chile
Perhaps a little less known, but still deserving of recognition are the fans of Chile. Ok I have to admit, the boys didn't say this one, but being that I studied abroad in Chile last year I decided to put it in here. But I mean, look at the picture, boys. You may not agree, but you can't complain.
#5. Australia
Ok to me, Australians just have amazing accents. Top that with some intense soccer spirit and beach ready style and I think the Aussies are a force to be reckoned with. The fans, at least.
#4. Spain
Ok I actually think this woman is pretty. And she didn't even have to expose herself to do so…just saying.
#3. England
Ah, the Brits. I guess the reputation of crooked, yellow teeth surpassed the minds of my guy friends on this one. When I think of England, I think of David Beckham. I don't even know if he's on England's team and I don't care. He's hot.
#2. Sweden
Maybe the fans come to games with braided hair and wooden clogs…or a simple bikini top will do.
#1. Brazil
Ok, who didn't see this one coming?
So there it is: the top 10 countries with the 'best' women soccer fans according to two college boys at the University of Minnesota. The USA is not part of their list because, frankly, these boys think the USA is lacking in the fan department. Let's face it—soccer isn't as big in the U.S. as it is in most other parts of the world. This year is our chance—for women and men alike—to show some American pride (and perhaps some skin) for World Cup 2010.