By: Molly Cody (Penn State University)
I thought it could never get worse than the senior pictures where you're leaning against a tree, pouting your lips, and wearing a letterman jacket…but then I saw Nick Nolte's mugshot and realized I was wrong. The man looks like he's in the middle of a nine-day bender and just put his hand in an electric socket, not like one of People's Sexiest Men of All Time.


Celebrities never let us down when it comes to mugshots, someone's always getting arrested and giving us new material to laugh at and secretly thank God none of our past transgressions are plastered on the cover of US Weekly. If paparazzi had been following my friends at college, we probably would have been shipped off to Promises in Malibu before the semester was over.
But there's no paparazzi at college, just unflattering Facebook photos. It's a magical place where you can buy pitchers of Long Island Tea's for 5 dollars on a Wednesday; where you can drink at 8 a.m. on a football Saturday and not be looked at as an alcoholic; and a place where you can make-out with a dude for a 40 oz. beer because he was kind of cute and you were thirsty.
Being famous basically strips you of your privacy, and for the young adult crowd who want to go out and get drunk, it's not quite as easy it was for us in college. I understand where these movie stars are coming from when they say they want a normal life and to be left alone; but then I remember they are filthy rich and partied on a yacht last night and I get over it.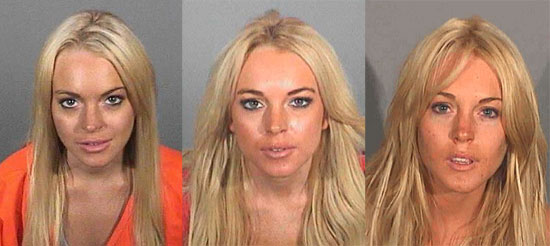 Most of the time this excess partying from celebrities results in a picture even worse than your school ID, a mugshot. Lindsay Lohan has quite the collection, with three different jailbird chic looks, all of which she is sporting blonde hair in. My personal favorite being the WTF stare on from her 2007 arrest for DUI and cocaine possession.
Paris Hilton also has three different mugshots, her latest from her recent arrest in Vegas for cocaine possession is her best-one yet. The braids and the smirk make her look like she could really care less about what happens to her, but looks can deceive as it has been reported that Paris is terrified about what could happen after her latest arrest. Considering she's already spent time in the clink, she doesn't need that type of press (hey, even bad press is better than no press!) and it's more likely to damage her "career" this time around.

Mugshots are the most accurate pictorial depiction of celebrities today. No photoshop, makeup artist, hair stylist, or lighting technician to make them look beyond flawless. Just probably a fat man sitting behind a camera getting a partial boner everytime he sees his old friends Lindsay and Paris walk in.
So keep it up, Hollywood. We need more mugshots to make us feel better about ourselves at night, and more scandals so we can fill up all of the glossy magazines.