By: Eric Michael (University of Miami)
Follow Eric on Twitter
On Saturday the University of Miami and their fans get the game they have been waiting for since 2003 after Ohio State defeated them for the National Title.  There was a questionable call of pass interference in the end zone that still to this day haunts Miami fans.  With gameday so close, let's take a look at some things to watch for on Saturday.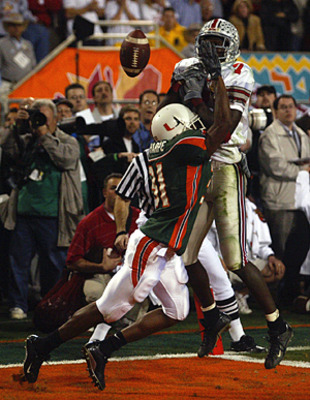 5. Will the pass rush be as good?
Last week versus Florida A&M, Miami recorded eight sacks, with Olivier Vernon having three and a half of them.  The defense was able to pressure Florida A&M quarterback Martin Ukpai unlike at any point last season.  If they can do that against Ohio State quarterback Terrelle Pryor, it could be a great day for the Hurricanes.
4. The noise at the Horseshoe
Known for being one of the loudest stadiums in the country, and with 100,000 fans clad in scarlet and grey the Horseshoe is an intimidating place.  The Canes have played in some loud stadiums over the years but the Horseshoe is one of the loudest ones they've played in.  How the offense handles the noise could be a big factor with audibles.
3. Will the tackling be better than last season?
One of Miami's main problems last season was that they missed too many tackles on defense.  We saw a few plays in the Florida A&M game where the defense allowed took bad angles and allowed a few extra yards.  Ohio State is too good and will take advantage if the Hurricanes miss any tackles.  Terrelle Pryor and company will have no problem leaving the defense in the dust if bad angles are taken and tackles are missed.
2.Can the Canes Control Terrelle Pryor?
The one word that has been around about Terrelle Pryor for the last two years has been potential.  Against Oregon in the Rose Bowl he finally showed that potential throwing for 266 yards and two touchdowns while also rushing for 72 yards.  Pryor can beat you with his arm and his legs so the Hurricane defense must shut him down from all angles.
1.  Jacory Harris and the Big Game
No matter what anybody says it all comes down to Jacory Harris.  He is the leader of this team, and we saw in games last year that when he made mistakes (see: five picks against North Carolina) the Hurricanes lost.  If Jacory plays like he did against FAMU, then the Canes have a good shot at coming up victorious.