By: Gina Reis (University of Minnesota)
Follow Gina on Twitter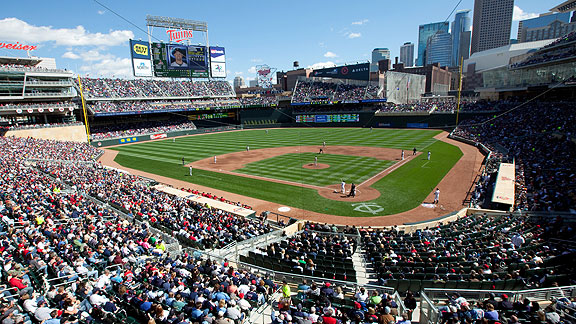 Take me out to the ball game… And finally, Minnesotans can actually go out to the ball game, after nearly 28 years of having to go inside a giant bubble to watch the games.  Don't get me wrong—the Metrodome is a place Minnesotans have grown to know and love, and it was just so versatile, hosting not only the Minnesota Twins but the Vikings, as well.  That's right—Minnesota likes to share.  Well, that is, until now.  We are sick of sharing with the Vikings. We are sick of seeing the faded white yard lines on the outfield grass and the pale Minnesota Vikings logo right where left-fielder Denard Span takes position.  And most of all, we are sick of that bubble of a roof (and who hasn't fantasized about crawling up there and popping holes in that thing, anyways?). April 12, 2010, is one Minnesotans will remember forever.  It's Twins Home Opener at Target Field, the Twins new home (no Vikings allowed).
Take me out to the crowd…I was fortunate enough to experience this historic day in person, and let me tell you, if the Mall of America is not a big enough reason to come to Minnesota (ha), Target Field definitely should be.  That's right, Minnesota is filled with many wonders—from the biggest ball of twine, to the largest mall in the country, and finally to the greatest construction known to man.  Seriously, this field is amazing.  Even though I may be slightly biased, I think it's safe to say that Target Field is one of the best baseball fields out there.  The 3:10 p.m. game called for me to skip out on a class (a sacrifice I was willing to pay) and jump on the bus and the newly implemented light rail of Minneapolis, to the game.  You know all those rumors about Minnesota nice? Yeah, those are true.  The dialogue you hear while immersed in the crowds is all fun and pleasant natured.  I spotted Wally the Beer Man, a celebrity in terms of Minnesota sports beer vendors, who takes breaks between beer sales to take pictures with fans and ramble on in his deep and perfect beer-man voice.  The concourse is open to the field—a big difference in terms of the Metrodome, which offered just a tunnel, closed from the field, leaving the events of the game a complete mystery while you ran to the bathroom or bought a souvenir pop (yes, pop.  That's what we say here).
Buy me some peanuts and cracker jacks… The multitude of vendors and concessions offered at Target Field is almost ridiculous.  You can get Chinese food, steak sandwiches, chopped salads, a variety of gourmet burgers and of course, hot dogs.  True to this Midwestern state, you can get wild rice soup, and get this—there is a Minnesota State Fair concession stand.  This probably means nothing to you unless you've experienced Minnesota's biggest event of the year (another great reason to come to Minnesota).  Now, the Minnesota State Fair, which happens at the end of the summer, is giant fair offering shotty carnival rides, a lovely tractor/mobile home display, concerts, and of course, any and every type of food on a stick.  Not impressed?  I want to see you put macaroni and cheese on a stick.
I don't care if I ever get back… The opening game had its special ceremonies, from the unveiling of a Kirby Puckett statue to fighter pilots zooming overhead.  Fans squinted their eyes, looking at their new ballpark and amazed by the sight of a blue sky (replacing the white bubble).  It's something many baseball fans take for granted all across the country.  I sat down in my cushy seat, basically level with third base, and was in heaven for the next four hours.  Can I live in a suite here?  Seriously, it's probably way nicer than my college apartment.
For it's root, root, root for the home team…Ok I understand if you don't know or really care about the Minnesota Twins or their new field (even though you should, because it is amazing), but you MUST have some appreciation for the wonders that are Joe Mauer and Justin Morneau.  Seriously, they are not human.  If you could personify Minnesota, it would come in the form of Joe Mauer.  Born and raised in the state's capitol (which is St. Paul), Mauer has the classic Minnesotan accent and charm.  Oh, and he's attractive….very, very attractive.  I mean, talented.  I'm still waiting for a marriage proposal.  I would accept one from Justin, as well, but being that he is newly married, I figure I just have to let that one go.
If they don't win it's a shame…Well, they did win.  5-2, in fact, against the Boston Red Sox.  Oh and fun fact: when a Twin gets a homerun, like Jason Kubel did in the bottom of the 7th, "Minnie" and "Paul" (the classic logo, showing two players shaking hands over the Mississipi) actually shake hands, and the outline of Minnesota shimmers.  Oh, and did I mention? The crowd goes wild.
For it's one, two, three strikes you're out… Big Papi struck out twice.  I'm just saying…
At the old ball game!